Let's get right to it.
Wisconsin hits their first two threes. Gopher perimeter defense shining as per the norm. Announcer-guy mentions Jared Berggren is from MN...we didn't need him.
Ralph Sampson misses his sky-scrape 15 footer. Hate him.
14:28 - Tubby Brings in a new 5, the other 5 blows. 13-8, Honey-free Badgers.
12:30 - The Barn is making noise...spirits not yet crushed. My 2 year old is eating all of my wasabi soy almonds. What a jerk.
Welch for 3, 10-1 run! 16-14 Gophers! Taylor answers with a 3, wah wah. 90% of the time the team that hits more threes will beat the other team at least 50% of the time.
Announcer uses "frenetic pace"...weird. We are on pace for the over I guess. (Sorry Dr. Detroit)
Sampson at the top of the key where he does the most damage...he throws a hi-low rocket pass under the basket to no one out-of-bounds. 17-16 7:44 left in the first half.
Gophers going with a trap/everyone guard one dude defense: 19-16
Sampson blocked by two Sconnies, but somehow earns the foul call. After he hits both free throws it's 22-18, WI.
SAMPSON REBOUNDS AND THROWS 'BOWS! Love this guy!
ESPN's scroll says that Nick Diaz loves the Mary Jane so much that he tested positive before his last fight against Carlos Condit.
6-8 from 3 for Wisconsin. #headshot
2:33 in the half with Wisconsin up 5. Gophers need to keep this to 5 or less; NO MORE 3s!
Another 3 for Taylor...he has 4 and it's an 8 point lead.
Going to need to magically put the kid to bed during half-time. Think pit crew...then think bourbon.
Flat top Evans with an easy put-back 32-24.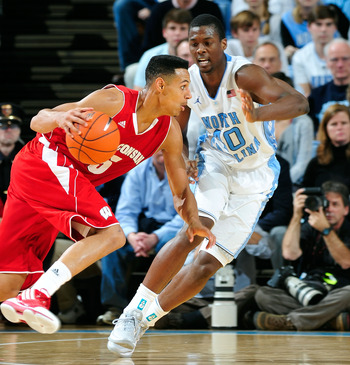 Sick flat top, bro.
Final possession of the half goes to the Gophers. Tubby calls for the ol' Chip-Armelin-dribble-in-place-until-5-secs-left-then-heave-a-rainbow-17-footer-that-barely-scrapes-the front-of-the-rim play. At the half 32-24, stinkholes.
Ok, I was late coming back and I'm too lazy to rewind. Gophers are down 11 with 14:00+. Eliason makes a nice basket inside but misses the and-1 free throw. 42-33, team that steals Minnesota guys since their in-state players blow.
12:22 left 45-33, Taylor has 20 of the 45 points. Sheesh.
Gophers look dead already...a few silly turnovers of late. Of course, we've all been here before. What will happen is the Gophers will go on a run and make you think they might make it a game, then they'll abruptly fold up like a pup tent. Let's watch it happen!
Nice drive by Rodney Williams and he makes the tough layup and earns the foul on Berggren. The free-throw cuts it to 9 despite ESPN actually giving the point to Wisconsin on the on-screen graphic. Rodney has 12 on 5-9 shooting. The bourbon tastes wonderful, I hope to sweet baby jesus my kid stays asleep all night. (CPS>hi!)
oo oo <--wheels wagon--> |___| 49-36
DRE Hollins with a nice 3 with the Gophs running the "chicken with it's head cut off" offense. Down 10 and 8:26 remains. Gophers get a stop, Welch gets a lay-in and the Gophers close to 8!
7:41 Ever notice Jordan Taylor laughs at everything like he's playing the entire game on E? Yeah, me neither.
Your hands feel AMAZING on my body!


Chicken with it's head cut off is no longer working. 6:33 left 51-42. Berggren totally travels in the lane, but the refs miss it. The crowd goes nutso, so a ref calls 3 seconds in the lane. #makeup Sadly, the Gophers do not take advantage.
5:00 left and Williams gets a layup to cut it to 7. Crowd is boisterous. #soulcrushcoming Announcer says Rodney should work on his jumper in the off-season, but then never use it during the season? Stick with what you have and don't use the skills you've improved I guess? DRE cuts it to 5 after a charge call on Happy Taylor.
3:34 left, 51-46 Badgers. Bo Ryan's lip curls into a sneer and his horn scabs throb on his forehead as he calls timeout. Out of the timeout the Badgers run some clock and let Taylor work one on one. He nearly turns it over and there's a jump ball; unfortunately the ball goes back to Iowa Northeast.
I never thought the Rock was a serious actor, but what's with all of the kiddie movies? This latest one might be worse than the one wear he wears a tu-tu.
Take me seriously!
3:00 and Gopher ball after a long, contested miss for the Badgers. CWiHCO offense in play again and Hollins hits another miracle 3 from the top of the key. Gophers down 2! #pleasenosoulcrush
2:00 left and Taylor rises up for a contested 3 which is partially blocked. Eliason has a chance to save, but throws it to Bo Ryan. WE'RE PLAYING DEFENSE! Another contested shot on Taylor. Rebound is tipped out of bounds. 51-49, gophers ball with 1:12 remaining.
Hollins gets the ball and drives baseline like a boss and gets the foul. Announcer tries to jinx him by announcing his 86% FT rate. TIE GAME after two clutch free throws. #omgomgomgomgomg
DRE
Under a minute to play, Badger ball. #needanewdrink Berggren brick, Gopher ball with 28.6 and a chance to WIN.
Dre Hollins airballs a tough shot in the lane; other Hollins gets rebound and a fading 20' misses. Overtime. #soulsuck
Pretty sloppy to begin the OT by both sides. 53-51, Badgers after two missed FTs by Rodney. Announcer guy hates on him some more. Flat-top gets a bucket inside to send Badgers up 4. #dead
2:09 left, Gophers still shitting the bed. Welp. Then, Armelame happens.
1:37 Badgers at the line for a 1 and 1. Evans makes both...Gophers down 6. Barn: dead.
Courtesy of @MVofDT
ESPN goes split-screen with one minute left and Gophers down 4. YES! Gophers do that thing where they let 18 seconds go off the shot clock before Ralph lumbers into a dude for the foul. YES! Berggren turns his back on the entire state by making both free throws. YES! 61-55 with who cares how much time left. The Barn plays LET ME CLEAR MY THROAT! #sotopical
63-58, 20 seconds of misery remain. I warned you.
65-58, 10 seconds left and they're still fouling? Bring in Reggie Miller...
67-61 after another Andre Hollins 3...maybe this guy should shoot more?
FINAL: 68-61