By this point in the season, you may already be done with baseball if you're a Twins fan. My forthcoming
pre
view which may have filled you with hope and excitement will now be like second floor refuse dumped on your head. You might stumble upon this blog post and yell out, "For the love of Sweet Baby Jebus, why?"
Gopher football spring practices have started and we could be talking football. We can't describe about what happens during those practices though except maybe in the vaguest of terms or the golden gestapo may come for us. So, we're stuck with baseball. There's only 157 games left!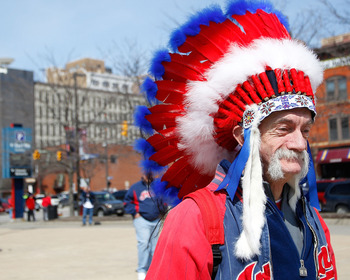 Honoring the proud heritage of Native Americans.
 Did you know the Indians finished in 2nd place in the AL Central? (80-82) In a poopy division, they were the second least poopy. A number of their core players are on the young side too, so the future for Cleveland is not one of doom and gloom. They have an outside chance of getting to their first winning season since 2007.
Key Additions:
Derek Lowe SP, Casey Kotchman 1B, Jose Lopez 2B/3B, Kevin Slowey SP, Dan Wheeler RP, Aaron Cunningham OF
Key Subtractions:
Austin Kearns OF, Jensen Lewis SP, Mitch Talbot SP
It must be spring because Grady Sizemore is having another surgery. The roided up husk of Travis Hafner is still in the lineup though. At this point in his career he's a replacement level player at best though. It's funny how all of these steroid era guys start breaking down when they get into their 30s, isn't it?

Travis Hafner as a normal sized human.

If you've read this far, congrat! I stopped half-way through this blog post and left it for a week because I was bored too. The Twins whinefest is next, so stay tuned.
Lineup:
1. Michael Brantley CF
2. Jason Kipnis 2B
3. Shin-Shoo Choo RF
4. Carlos Santana C
5. Travis Hafner DH
6. Asdrubal Cabrera SS
7. Shelley Duncan LF
8. Casey Kotchman 1B
9. Jack Hannahan 3B
Rotation:
Justin Masterson
Ubaldo Jimenez
Derek Lowe
Josh Tomlin
Jeanmar Gomez
Close: Chris Perez