I know you guys all don't give a rip about my baseball thoughts. BUT I HAVE OPINIONS THAT NEED TO BE EXPRESSED.
Twins Signings - Carroll and Doumit
The Twins added veteran Jamey Carroll to the middle infield mix with a two-year, $6.75MM deal. There is a mutual option for 2014 that is vested if Carroll has over 400 plate appearances in 2013. Carroll is a nice bat to put in the #2 spot in a lineup. He can hit for average (.278 career) and he knows how to take a walk (.359 career OBP). He'll be 38 in 2012, so he might be too tired for a lot of night games which is problematic. The early word is that he'll be playing shortstop. At shortstop he has NO range, but a pretty solid glove. Sort of in the Derek Jeter mold; so maybe he'll get a bunch of undeserved gold gloves? It would suck to keep jerking around Casilla, but I think he'd be better at SS with Carroll at 2B where he's played the overwhelming majority of his career. (554 games at 2B, 224 at SS, 225 at 3B - Don't do it, Gardy!)
This is a good move because middle infielders in today's MLB are garbage. With Casilla and Carroll in the MI, you have two above league average players. Think about that for a minute. Meanwhile, 24 year old shortstop Brian Dozier ripped up high A and AA last year and played well in the Arizona Fall League (296/358/454). You have to think there's a chance he gets a shot at starting shortstop in 2013 and maybe a September call up in 2012.
Can't we play games at 5am?
Ryan Doumit is also a good signing. You may recall back on 9/28 I listed Doumit in the Poo Poo Platter of catching options the Twins should explore. The Twins landed him for an incentive-laden one year deal with a $3MM base salary.
Doumit isn't the best defensive catcher in the world. He also gets injured quite a bit, so he should fit in well in the clubhouse. No one likes the guy that never misses a day of work, right? And as a bonus, Doumit also can play 1B and RF at a below average level. So, what does Doumit do well? The guy can hit. He only managed 236 PAs last year, but posted a very nice 303/353/477 line. That's a little bit above his career number, but the bottom line is he's not going to hit .200 like Butera and he's going to give you a little pop too. Doumit should allow Mauer and Morneau some days where they just DH or even take the day off.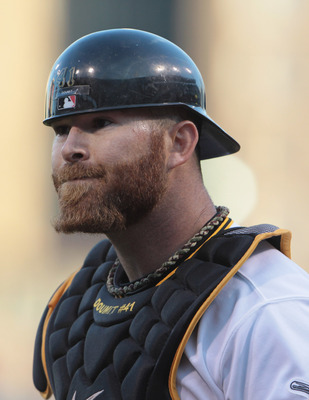 Plus, POWERBEARD™
Joe Nathan to Texas
Speaking of old guys; Nathan signed a two-year, 14.75MM contract with the Texas Rangers. History has shown that almost all multi-year free agent deals for relievers don't pay off, let alone a deal for a 37 year old pitcher that lost 2 mph on his fastball after having Tommy John surgery in 2010. Nathan one among the best in the league when he was healthy, I just don't think he'll ever get back to that level. And for the Rangers, who are finally moving Neftali Feliz into the starting rotation, Mike Adams would be a better choice to close. He's like a spring chicken at 33 years old! Best of luck to Joe, but the Twins dodged a bullet here.
Cuddyer and Kubel and Capps, Oh my!
With the Type A free agent change, the team that signs Cuddyer no longer gives up their first round pick to do so. Now the Twins would receive a bonus pick
in front
of the signing team in the first round in addition to the sandwich pick between the first and second rounds. Regardless, Terry Ryan did offer arbitration to both Cuddyer and Kubel. Cuddyer has had a lot of interest from other teams, especially from the Phillies. However, the Phillies recently traded for Ty Wigginton who has some of the same features that Cuddyer does. Namely, they both can play a few positions and hit a little bit. Wigginton isn't quite the hitter that Cuddyer is, but Wiggy can play 3B, which is a need for the Phils. With the Phillies likely out, the Twins' chances of getting Cuddy back improve greatly. The Red Sox are rumored to be interested in Cuddyer as well though. The Orioles also have interest it seems. I'd like the Twins to get Cuddyer back, but if it's a 4 year, $40MM type deal I'd just assume avoid him and chase Josh Willingham instead.
Kubel doesn't seem to be garnering as much interest from teams as of yet. I've read a rumor about the Indians being interested, but the did bring back Sizemore and they are lefty heavy in the lineup. Last year the Red Sox put in a claim for Kubel before the Twins pulled him back; so there's potentially some interest there.
Ideally, the Twins get one of Kubel/Cuddyer back. They need all of the power they can get. As mentioned, I'd also like to see them pursue Josh Willingham. Rumors of a deal involving Denard Span for Drew Storen interest me as I'm not excited about a lineup that starts both Span and Revere in the outfield. They'd be about as potent as my dog (neutered) with Span, Revere, Casilla, Carroll and Mauer all in the lineup hitting less than 10 homeruns.
Josh and Ginger Willingham!
Justin Verlander, MVP
Ugh. The hype-machine for Verlander's MVP candidacy (starting with Verlander speaking on behalf of himself) really did the job. I'm not one of those guys that says a starting pitcher can't be MVP, but here's the only scenario where I think a pitcher deserves consideration. It would have to be a season where hitting is down (like this year), and there are no real stand-outs among position players (not like this year) and a pitcher is head and shoulders above all others in the league (could definitely be said for Verlander).
The 2011 AL league average for batting was .258 and the OPS was .730, which is down from 2010 ("The Year of the Pitcher"). The last time the AL average was lower than that was strike shortened 1981. The last full season was 1976. So, in the lowest hitting year in 30+ years, we had some real stand-out seasons for some position players.
In 1976, the highest OPS (On Base Pct + Slugging Pct) was Hal McRae with an .868 mark. (Shout out to Rod Carew for 2nd place with .858) McRae hit .332 with 8 homeruns and 73 RBI. McRae finished 4th in MVP behind Thurman Munson, George Brett and Mickey Rivers. Twins starter Bill Campbell was the highest finisher among pitchers at 8th.
In 1981, Dwight Evans posted a .937 OPS with 22 homers and a .296 average in only 108 games. Evans finished 3rd in MVP voting behind Rollie Fingers and Rickey Henderson. Only Bobby Grich had an OPS over .900 with Evans that year.
Here are the OPS leaders from 2011 in the American League:
To me, the MVP voting should have been a three horse race between Bautista, Cabrera and Ellsbury (taking into account his excellent D in center-field and epic stolen base total). Josh Hamilton won the MVP in 2010 with a 1.044 OPS for further comparison. You might say, well no one as lights-out as Verlander was in 2010. I would then submit you the following comparison: Felix Hernandez.
IP
Verlander: 251
Hernandez: 249.2
ERA
Verlander: 2.40 (170 ERA+)
Hernandez: 2.27 (174 ERA+)
Strikeouts
Verlander: 250
Fernandez: 232
WHIP
Verlander: 0.920
Fernandez: 1.057
Pretty close, right? Well, Fernandez finished 16th in MVP voting. Verlander apparently gets a big boost from his record (24-4) which is the least telling of his impressive 2011 statistics. Poor Felix played on a crappy Mariners team and went 13-12.
It looks like it may be time for me to lump MVP awards in with All-Star game appearances and Gold Gloves; awards that given for all of the wrong reasons.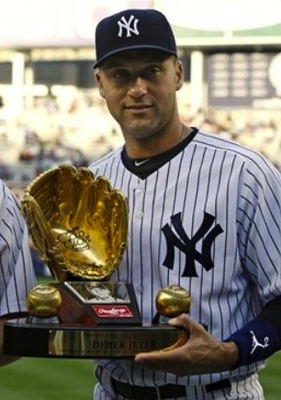 DERP