Everyone loves a countdown, right? Except when it's one of those bleacher report style click-bait things. Screw that noise.
For 2015, the Gophers start the year with a huge question. How do they replace the production of David Cobb and Maxx Williams on offense?
For this countdown, I'm excluding the quarterback from offensive "skill positions" because we know we'll have Mitch Leidner back . Manning Camp Mitch is going to have even more weight on his shoulders coming into this year as he and the staff search to find the guy(s) who should get the ball. The good news is there are many candidates.
As usual, Kill plays it pretty close to the vest. Throughout the spring and into the summer we've heard him praise a number of different players in classic Jerry Kill generalities: "Did a nice job", "Had a good day", "Really playing well", "I like him a lot," etc.
We've also seen that those at the top of the proverbial depth chart pre-season may not be who we find starting to close out the year. To recap, here's what the Gophers are losing from 2014 as far as receiving and rushing goes:
That's 1728 of 2813 rushing yards (61.4%) and 1285 of 1844 (69.7%) of receiving yardage.
I'm going to use a proprietary blend of dynamic-ness/upside-ness and playing time. It's all very scientific and totally on the level, trust me:
10. (5-way tie!) Lincoln Plsek /Jerry Gibson/Duke Anyanwu /Brandon Lingen/Nate Wozniak, TEs - So, right from the start I'm cheating. This is a hugely important position in the Limgrover offense, but I haven't a clue who gets the bulk of the catches.


With Anyanwu (RSSo.) and Plsek (Sr.) both recovering from knee and back injuries respectively, the door cracks open a little bit more for someone else to step up. At this point, it appears Plsek is in risk of missing the opener, but Anyanwu is out just a couple of weeks. Plsek is more of a classic blocking tight end with Anyanwu with more speed and athleticism.
Gibson may or may not be ready for prime time yet as a redshirt freshman. He's a heck of an athlete though and next to Lingen and Anyanwu may be the most likely to be that receiving tight end. "Six-foot-Ten" Nate Wozniak deserves a special shout-out because Kill mentioned him at Big Ten Media days and again after the scrimmage. It's hard to believe Wozniak can play every down – I would expect more of a specialist with his length. Lingen also getting a lot of praise and had a decent amount of run as a true freshman last year Maybe he's the guy? It'll probably end up being one of the other nine tight ends on the roster. ¯\(°_o)/¯
9. Eric Carter, WR
– The redshirt sophomore had just one catch last year, but it wasn't too long ago that many were high on his prospects. He made a nice 12 yard catch on third down on the first drive of the gopher fall scrimmage. He's not a starter yet, but with only two returning receivers with 10+ catches, anyone can make the jump.
8. Berkley Edwards, RB
– Edwards is one of the running backs in the hunt for carries and looks like an option for a change-of-pace runner at 5'9" 195lbs. He had 30 carries for 140 yards and 2 TDs in 2014 as a redshirt freshman in 2014 and really showed so flashes of being the lightning to someone's thunder.
7. Melvin Holland Jr., WR - Jerry Kill calls him gunpowder! Holland caught a 56 yard pass in the scrimmage from a slant pass against the first team defense. The RS freshman has a lot of skill and Leidner has said that he has "taken the most strides." I really like him as a possession guy that can generate yards after the catch with his elusiveness.
6. Rodney Smith, RB – The redshirt freshman got the second drive of the fall scrimmage and is in the hunt for major carries this season if Williams doesn't carry the bulk of the load. He did get stuffed by Everett Williams on said second drive because the dreads have eyes.
5. Drew Wolitarsky, WR – Wolitarsky at times has shown the ability to find openings in a defense. Coming off a 10 catch year as a sophomore, he is a likely starter outside. As important as catching passes, his 6'3", 220lb frame may need to replace some of the blocking that Isaac Freuchte brought to the squad in 2014.
4. Isaiah Gentry, WR – I'm going out on a limb with Gentry in the 4 spot. He's 6'4", can run well and goes up in the air to catch the ball. A big part of Maxx's ability to have success was to get those jump balls and I think Gentry can mimic that effect. When was the last time we had a receiver with size that could go deep?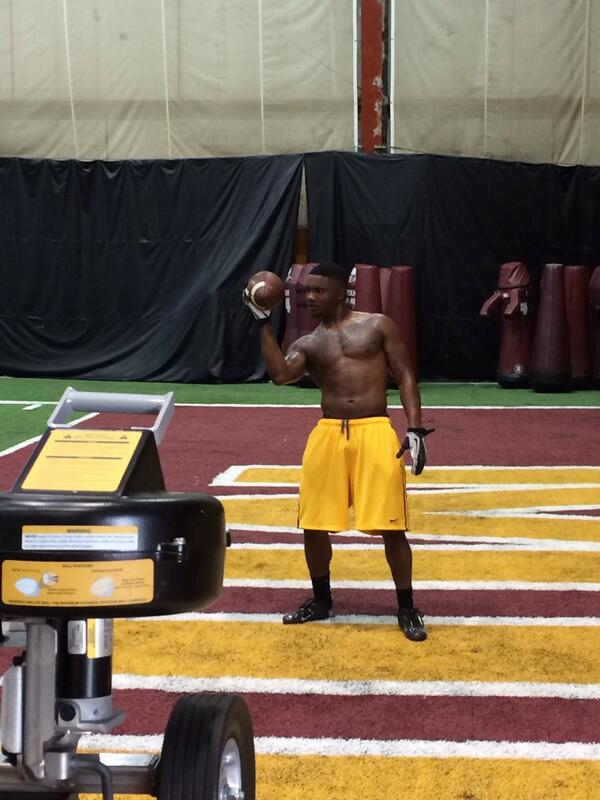 3. KJ Maye, WR
– KJ is the odds-on favorite to be the leading receiver and also happens to be the returning receiver with the most receptions. He also jet-sweeped (jetswept?) the Hawkeyes to death last November, which was terrific. He's an undersized receiver at 5'10", but could be very valuable working underneath with some of the younger and bigger players "taking the top off" of defenses.
2. Rodrick Williams, RB – Nugget seems to be the favorite to replace a lot of the Cobb production. He committed himself in the off-season and got in better shape anticipating a heavier workload. In my opinion, he doesn't have as much of that one-cut ability that Cobb showed, but I like him to be a grinder and break some tackles. I expect him to lead the team in rushing attempts and touchdowns this season.
1. Jeff Jones, RB/WR – The redshirt freshman has been moved to the slot wide receiver position to catch passes and maybe run some jet sweeps. The Under Armor All America MVP has come in with a lot of hype out of Washburn Hs and will finally get a chance to show what he can do this year. I expect him to get some carries from the backfield as well. By the end of the year, he could be getting a lot of touches per game both on the ground and through the air. He has all of the talent and skills to be our biggest impact player.
Honorable Mention: Shannon Brooks (RB), Chris Streveler (QB/WR?), "Six foot Five" Rashad Still (WR), Desmond Gant, WR
What do you think? Who comes through and shines as a play maker for the Gophers this season? Who did your buddy TRE miss? Which one of those tight ends comes through?