So, Swan tells me tomorrow is National Signing Day as he's on the upswing on the roller-coaster of Gopher fandom. A lot of high school footballers have already committed, but tomorrow is the day where those that have been staying mum in order to have their LOOK AT ME moment can do so on national TV. The rest of the poor schlubs that already committed will sign their binding letter of intent as well.
Kendall Gregory-McGhee got a cake!
The knobs at ESPN will be covering it like so:
Many of the nation's top prospects, including Mario Edwards, No. 1 in the ESPNU 150, Dorial Green-Beckham (No. 3), Andrus Peat (No. 9) and Eddie Goldman (No. 10), will make their decisions on ESPNU. There will also be reporters stationed at campuses across the country and former Miami coach Randy Shannon will join analysts Tom Luginbill, Craig Haubert, Corey Long, Jamie Newberg and Mark Schlabach to break it all down.
There is one Minnesotan on the coveted ESPNU 150 list and guess what? The Gophers got him. His name is freaking Isaac Hayes too! He's a guard and ranked #112 on their list. In fact, of ESPN's top 10 players from Minnesota, the Gophers landed 6 of them; with one undecided. Is this an unprecedented level of in-state recruiting? I have no clue. I laugh in the face of hard-hitting journalism like researching top in state recruiting classes.
Since I'm an ESPN Insider (impressive, right?) I thought I'd share some info on some of the Gopher recruits and maybe search the youtubes for videos to critique in my amateur (read: incorrect) way. Also, I know Rivals and other resources have other rankings and all they tend to prove is that no one agrees on (knows) anything. I'm using ESPN because it's readily available and is maybe something everyone doesn't have access to I'd love to see if anyone goes back and tracks if any service has more accuracy than another though. Chances are they each have their moment.
Isaac Hayes - Mendota Heights, MN - St. Thomas Academy
#9 OG - 6'2" - 270lbs
ESPN's ranks him the #9 OG and gives him an 80 out of 100 (4 stars). His album, Hot Buttered Soul, was ranked #90 on
FastnFabulous.com's
list of greatest soul albums. ESPN's scouting report basically says he's a stud. He can run-block, pass-block, get to the second level by pulling or trapping and he's tough/strong.
Demonstrates quick set ability; can bend and slide his feet, showing very good balance and explosion when delivering the initial punch; uses his hands effectively, working to stay inside with good extension. Displays the athleticism to pull and get out in front on bootleg plays. We like his aggressive finishing attitude; it's what we look for when evaluating offensive linemen.
Check out this highlight film of him killing people. His strength just overpowers most of them, sometimes caving the whole defensive line in. Even more impressive is to see him get out in space and swat these guys to the ground like flies.
Jamel Harbison - Charlotte, NC - Mallard Creek High School
#32 WR, 5'11" - 190lbs
Andre McDonald - Minnetonka, MN - Hopkins High School
#37 WR, 6'2" - 200lbs
The Gophers have received commits from two 80 grades, 4-star wide receivers in Harbison and McDonald. Reading through the recruiting info, they are two very different types of receivers though. Harbison is a powerful, quick player that might be your prototypical slot player making plays over the middle. In the video below, he returns kicks, breaks tackles, makes long catches and generally looks awesome.
[Harbison] is very quick given his size, shows good burst off the line and has the ability to be a factor in all three phases of the passing game. Displays a great combination of reliable hands and the speed to turn any reception into a touchdown. -ESPN (video)
McDonald is a big, strong player with great hands but does not possess crisp route running or break-away speed. McDonald returns some punts in his video below, but doesn't show the burst that Harbison does. He looks huge out there though and definitely uses his body to get in front of defenders to make the catch.
[McDonald] is tough and will go after the ball in traffic and isn't afraid to go over the middle. He is at his best in one-on-one match-ups on the jump ball as well as on underneath routes where he can use his frame to shield the ball for the defender. -ESPN (video)
Jonah Pirsig - Blue Earth, MN - Blue Earth Area High
#48 OT, 6'8" - 300lbs
The weenies at ESPN give Pirsig a 79, thus making him a 3 star dude instead of a 4 star. The ESPN scouting report describes him as a "dominant run blocker" and "has the size and athleticism for the offensive tackle position" and finally, "this is not a clumsy football player". They further go on to indicate he needs more explosion (don't we all) and could work on lowering his pad level. He's 6'8", his pads are going to be high; give him a break. Pirsig does seem kind of polar bear shaped; with his upper body being longer than his legs. This worries me a bit because in watching the following it seems he just flops over at times like a weeble-wobble. I'm sure Kill and friends will fix that and turn him into Walter Jones. (
video
)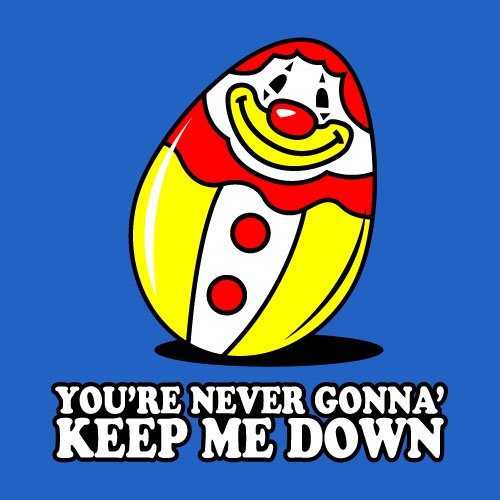 Also, I highly recommend a google images search of "weeble wobble"
Here are some quick comments on the rest of the recruits, with the JUCO transfers listed at the bottom.
Dinero Moss #34 S Sunrise, FL 6'0'' 204
Kick-ass name and some good size. ESPN describes him with "sleeper", "ball hawk" and "explosive". Plus, his name is DINERO! He also apparently already has a nickname: "Lights-Out". This video shows he gets low on tackles, has pretty good awareness with the ball in the air and seems to relish getting the big hit.
WHO HATES IOWA? Apparently not Dinero Moss...
Lincoln Plsek #103 DE Waco, TX 6'4'' 235
Plsek is on the list of lunch-pail types that seem to be a hallmark of this first Kill recruiting class. ESPN buzzwords are "not flashy", "ability to grow", "good motor" and "can deliver a pop". There's a possibility he moves to tight-end, but ESPN thinks he has more upside at DE.
K.J. Maye #95 ATH Mobile, AL 5'10'' 190
Maye played QB at Murphy HS in Mobile, but it seems like he's destined to move elsewhere; maybe wide receiver or safety. This is your classic Kill recruit. He has speed and athletic ability, who cares about position. Can we call it a classic Kill recruit in his first U of M recruiting class? Whatever... I'm going with it. ESPN Insider uses "good looking, sleek athlete", "light and lean" and "under the radar". He sounds like a god-damned racehorse. Watch
his video
(SOUND UP!) and you can see he's small, but lightning quick. He also has some pop in his arm, so maybe some QB play isn't out of the question. I wouldn't mind seeing what he could do as a 3rd down back type either.
Yoshoub Timms #83 DT Fort Walton Beach, FL 6'2'' 260
ESPN: "physical dude", "solid size", "flashes of a good get-off" and "displays toughness". Timms gets a 76 from ESPN, so they think pretty highly of him. Unfortunately a youtube search for Yoshoub Timms only returns Timmy from South Park videos. Hopefully his "get-off" is better than Timmay's.


Philip Nelson #94 QB Mankato, MN 6'2'' 215
ESPN: "lacks ideal measurables", "accurate son of a gun", "quick release and impressive arm power" and "one of the most accurate in short and intermediate". Basically they just knock his height like he's Doug Flutie, but they do give him a 74; one point from a 3 star. (
video
)
Rodrick Williams Jr. #88 RB Lewisville, TX 5'10'' 215
ESPN: "good versatility", "pass catching threat", "good burst" and "not a lot of wiggle". Sounds like Rodrick is like me on the dance floor. What he is though is big and he can catch the ball.
Looks bursty here.
Mitchell Leidner #110 QB Lakeville, MN 6'4'' 220
ESPN: "deceptively good athlete", "buys time with feet", "adequate deep ball", and "heady". Leidner is also a 74 from ESPN like Nelson and Rodrick. Watching him on tape, it looks like his down-field passes vary in accuracy and he sometimes throws the lollipop that would not work in the Big Ten. He does have the zip on intermediate throws and he's definitely a tough runner, although he might get KTFO if he runs like that in CFB.


Alex Keith #192 DE Columbia, MO 6'3'' 220
ESPN: "active", "frame that can support more mass", "good motor and hustles" and "displays rigidness". Active in the ESPN vernacular is akin to the dreaded participation ribbon I think. Keith has by far the best production value in his
youtube clip
I've seen so far. We need to get that guy working on the blog. From the vid, it appears he has an uncanny ability to get up in the air and bat passes down. He's also blocked a number of kicks. He does look like he needs to add size, but he impresses me a bit even if it seems like he's a bit of a one trick pony with the outside-rush-then-jump move. Also nice to see some special teams coverage hits in there. I bet Kill & Co. liked that.
Brian Nicholson #120 OLB Miami, FL 6'0'' 215
ESPN: "attack style", "short range burst", the dreaded "hip tightness", "toughness" and "should add value on special teams". It looks like he pursues and can tackle, but he's raw. (
video
)
Nick Rallis #121 S Edina, MN 6'0'' 205
ESPN: "tough", "solid run supporter", "good pursuit speed" and "drives through ball carriers". All I care about is how sweet his hair is. His video is filled with hustle and extra-effort type plays. (
video
)
Jordan Hinojosa #138 DT Miami, FL 6'3'' 272
ESPN: "plays through the whistle", "needs to improve upper and lower body strength", "tough to single block at times" and "high effort and technique make up for athleticism". Swan and others like Jordan's upside. I like his facial hair. Here's his version of the
Tebow press conference
.
Scott Ekpe #147 DT Lewisville, TX 6'3'' 255
ESPN: "needs to improve strength", "quick first step", "gives effort in pursuit with a high motor." MOTOR!
Antonio Johnson #157 S Cleveland, OH 5'11'' 190
ESPN: "productive as a RB and a DB", "tough customer", "very good desire" and "plays zone coverage with good awareness". Instrumental version of Birdman
in this video
with a lot of celebrating by Johnson. He's definitely one tough SOB.
Jack Lynn #174 OLB Lake Zurich, IL 6'2'' 205
ESPN: "can add body mass over time", "is effective as a slot receiver", "creates havoc in the opposing backfield", "alert in zone coverage" and "tough customer who plays with motor". I see a trend, you guys. Jack is the last of the 2 star guys listed by ESPN. I gotta say he looks pretty smooth at both WR and LB. (
video
)
Duke Anyanwu #289 WR Blaine, MN 6'2'' 215
Damarius Travis S Pensacola, FL 6'1'' 185
Maxx Williams TE Waconia, MN 6'3'' 220
Eric Murray ATH Milwakee, WI 5'11'' 175
Ben Lauer OT Plymouth, MN 6'6'' 260
Isaac Fruechte JUCO WR Caledonia, MN 6'2'' 210
James Gillum JUCO RB Pearl River, LA 5'11'' 195
Jeremy Baltazar JUCO CB Brenham, TX 6'0'' 195
Martez Shabazz JUCO CB Athens, TX 5'11'' 170
Briean Boddy JUCO CB Coffeyville, KS 5'11'' 175
I like the idea of adding Baltazar, Boddy and Shabazz in the hopes of immediately bolstering the secondary. This is a huge need. These dudes all have cool names too.


Roland Johnson JUCO DT Duncan, SC 6'1'' 285
Likewise with Roland Johnson... hopefully he can immediately contribute.