Judging who is a hall of fame player is a difficult task, and it has become even more troubling as the steroid-era players reach eligibility and a confusing mix of young stat heads that never saw older guys play and old curmudgeons that only look at classic stats and their fond, albeit fading, memory of certain players to determine voting. Voters seem to be willing to change their mind on whim rather than having some kind of formula or strategy.
Guys like this guy are determining HOFers.
Worst of all are the sportswriters that decide to throw a bone to hometown players that don't stand a chance in hell of be elected to the hall. They apparently think a little recognition will make this player's day or something. I find it to be annoying at the least and hulk-smash-y at the most. Use your votes for the player you think are deserving of the Hall of Fame, you ninnies. If you liked some player from your market so much, write an article about them. You are baseball writers, after all.
This year, Barry Larkin was the only player that received the required 75% of the vote. In my opinion, he's a deserving candidate and was one of the best shortstops of his era. I think a hall of fame player can be determined by three factors:
1.
Career stats that stack up
with the all-time greats aka the magic thresholds: 3000 hits? You're in.
500
close or over 600 homers? You're probably in. 300 wins is mostly no longer attainable with 5 man rotations and 100 pitch counts, but 250-260 should give you a hard look and 275+ might mean you're in.
2.
Being one of the best players in your era:
Did you have a 10 year run where you were the best? In. Did you get a bunch of MVPs or you were in the top 10 in MVP or Cy Young quite a bit? In. Position comes into play here. Being among the best in your era with an extended career and therefore some big career stats helps. Gold Gloves and All-Star appearances are
not
an important consideration because they've been ruined by horrible voting. They are the to be given the most minor of considerations. In 1999, Rafael Palmeiro got a gold glove by being the DH for 128 games and playing first base for just 28 games. He still managed to make one error. Ozzie Smith made the all-star game in 1995 at age 40. He played 44 games all year and hit .199.
3.
The rare several years of extreme greatness and a career suddenly cut short
: Kirby Puckett falls into this category. Some think Don Mattingly should, but even though I had some Mattingly posters on the wall (one with a tommy gun?) I don't think he fits mainly because he had a slow degradation and perhaps not as many top level seasons as you'd like. Koufax is an example though.
I can't stress enough how important era is. Ron Santo got jobbed for a long time even though he played quite a bit in an era where the mound was higher and pitchers like Bob Gibson were posting 1.12 ERAs and he was still kicking some ass. (In 1969, the mound was lowered from 15" to 10") Also an important tiebreaker or consideration is the lore or hype surrounding the player. If there were seminal events in their career with one of the three above, this should get them over the top. Huge playoff performances, breaking records, being known for being incredible at something, etc.
With all of these factors in mind, here are the guys I would have voted for for the MLB Hall of Fame.
DownwithGoldy with Barry Larkin in '91
1. Barry Larkin, SS - 495 Votes, 86.4%
Larkin was the only one to make it in to the Hall of Fame and did so easily with 86.4% of the vote. Barry was one of the best shortstops of his era. There are others that are in that conversation, namely HOFers Cal Ripken Jr. and Ozzie Smith, but that's quality company to keep. Larkin was the 1995 MVP and was 7th, 12th, 12th, 17th, 22nd in other years. Larkin amassed 2,340 hits, 198 homers and 379 stolen bases over 19 years. While those numbers don't hit any of the big counting milestones, they are impressive amongst shortstops.
He was known as one of the best shortstops in the game and since we already know gold gloves are rigged we can allay the fact that he only won three of them. As long as The Wizard was doing backflips out to his position, writers were going to give him a gold glove.
Finally, Larkin was 90th all time in Wins Above Replacement (WAR) with 68.9 all time. That puts him like 4-5th among shortstops. (Robin Yount was maybe a half shortstop) So, what the frick is WAR you ask?
"WAR is a sum of the win value of a player's offense, defense, pitching, adjusted for that player's defensive position, playing time (thus keeping the replacement level players off the field) and year, park, and league context." -Some Smart Guy
So, basically a number of other stats are taken and mashed together in order to compare players across era and position. Neat huh? OK, so he's in. Here's who else I would have voted for...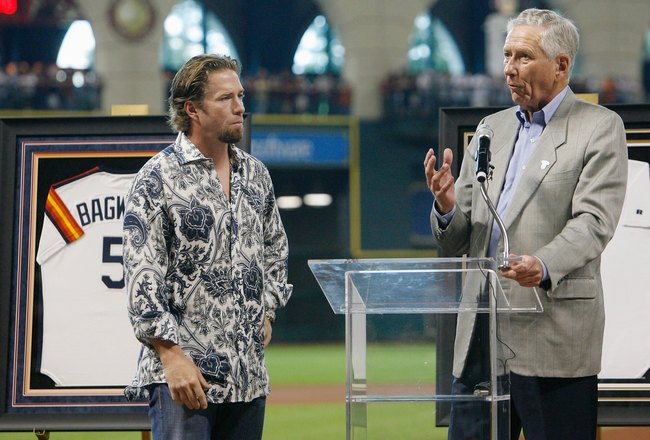 Nice shirt choice, bro.
2. Jeff Bagwell, 1B - 321 Votes, 56%
Steroid era guys are tough to vote for; especially when some have either been implicated or have admitted to using performance enhancing what-nots. So, we're left with two options: ignore about 12-15 years of baseball completely, or once again compare them against their peers and vote in the elite. (and make fun of their shrunken testes) We'll never know how many didn't use
something
, so I'm inclined to just take the era for what it is.
Bagwell WAR was good for 79.9 over 15 years. He won 1 MVP award and was top-10 another five times. He had 2314 hits, 449 homeruns and a career .408 OBP. He also stole 202 bases for the hell of it. He was a very good defensive player, but it was at first base, so no extra points there. He's 22nd all time in OPS (On Base + Slugging) at .948. He had cool chin-beards.
LaRussa checking the oil...
3. Mark McGwire, 1B - 112 Votes, 19.5%
This last season was Mark's 6th being eligible for the HOF. His numbers are well beyond what would be normally required for entrance but he's shared more needles than my man Bubs on The Wire has.
Bubs on the grind.
McGwire was one of the most feared hitters in baseball. He had 583 homers, a .394 OBP and a 63.1 WAR. The bitter writers have made him suffer for awhile and I think it's time to accept him in. What's interesting now though is in 2012 a number of other known steroid lovers are also eligible (Bonds, Clemens, Palmeiro, etc). So, will McGwire get lumped in with all of these first timers as they get the snub? Or does he get in before them, thus indicating they'll eventually get in as well. Do they even have enough material to make busts out of some of these massive craniums?
4. Tim Raines, OF - 279 Votes, 48.7%
Tim "Rock" Raines was originally given his nickname based on his build, but in Ken Burns' baseball it was also said that he only slid into bases head-first because he didn't want to break the vial of crack in his back pocket. Raines is 5th all-time in stolen bases with 808, he had 2605 hits and another 1330 walks. He has a 64.6 career WAR and a .385 OBP. He played in 23 seasons spanning over parts of 4 decades. Over time as statistics begin to favor OBP as opposed to batting average, Raines has gained a lot of momentum. Raines is one of the best lead-off men of all time, whether high on crack or not.
RAWR
5. Jack Morris, SP
Morris had 254 wins over 18 seasons. He garnered MVP votes in 5 seasons. He averaged 16 wins per year over his career. His career ERA is a less-than-wonderful 3.90. These numbers would put Jack just outside of consideration, but then you consider his playoff performances. He's been a key component of 3 different World Series teams. He's 7-4 in 13 post-season starts with 5 complete games. As a Twins fan the 10 inning complete game he hurled against the Braves stands as a massive moment in baseball history. However, I'm not alone in this as it's considered by many to be one of the great games in World Series history. Jack Morris' post-season play and success puts him over the top for a HOF induction.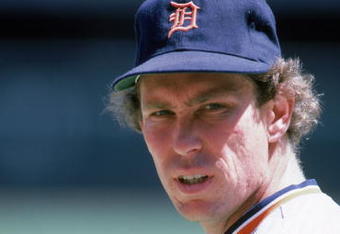 Had a little Garfunkel in him, didn't he?
6. Alan Trammell, SS - 211 Votes, 36.8%
If Barry Larkin is in the HOF, Alan Trammell should be as well. Larkin had 2340 hits, Alan had 2365. Larkin had 198 homers, Trammell had 185. Larkin had 1 MVP and was in voting 5 other times, Trammell was in voting 7 times and finished 2nd once. They both have won some gold gloves and both were key cogs on a championship team. To me, Trammell was just a shade (noracist) short of the player Larkin was and he should be in.
Sorry about all of these baseball blog post...I'll do something else next. Now accepting suggestions in the comments section. YWIA