Okay, so the season already started, but I'm calling it a preview anyway. I know you guys will bombard the comments section with complaints about this, but tough titties. We have some long winter months ahead, and while the Gophers are taking their lumps in Big Ten play, why not watch the Timberwolves from time to time. I know you're bitter towards them, but the time to climb aboard the bandwagon is now! They've been in every game this year and have won the last two.
Adelman cracks me up in this pic
Here's my run down of the Wolves' roster this year.
Starting Lineup
Really need Luke to go back to this hairstyle.
PG
Luke Ridnour
Key Stat
4th in NBA with 44% from 3 point range in 10-11.
Salary
$3.7MM - signed through 13-14
Ridnour appears to be the man Wolves fans love to hate and it's going to get even worse for him this year as the Rubio hype continues to grow. Ridnour is a quality veteran that has good percentages, makes few mistakes and carries a palatable salary. Rubio's development is a wild-card, but I'd expect Ridnour to start at the point all year and for Rubio and Barea to continue to come off of the bench. This doesn't mean that Ridnour will consistently get the most minutes at the point though.
Not that there's anything wrong with that.
SG
Wes Johnson
Key Stat
Wolves rookie record 103 three-pointers in 10-11.
Salary
$4MM - team option for 13-14
Wes was a major force at Syracuse; mainly as a slasher type that ran the floor at break-neck speeds. In his rookie year with the Wolves he seemed to convert to more of a spot-up shooter type. As the year went on, he seemed to get better in that role, but I think he's being under-utilized if that's all he's doing. With Adelman in, we have less triangle and more wide open play. With Rubio/Barea/Ridnour the plan clearly is to run. Wes should get on a wing and get some dunks. Last year, Wes shot 39.7% and 35.8% from 3. What they need most from Wes is the ability to play solid defense. As scrappy as Barea is, there will be plenty of 2s he just cannot guard due to his size. Wes shows flashes of good D, but needs consistency here.
Oops, God's Son left weed on the table.
SF
Michael Beasley
Key Stat
4.4 points per game increase in first year with Wolves.
Salary
$6.3MM - signed through this year, qualifying offer for 12-13
The good thing about Beasley is he's one of the few Wolves that can create his own shot. He can get a shot off pretty much at will. The bad thing is he's a little mopey, shoots too much, plays no D and loves the Mary Jane. Another scary thing is Beasley/Love/Randolph all have the same agent and are all looking for extensions. At $6-7MM Beasley has value. I'm not so sure he does at $10MM per year; especially when you have a lot of redundant skills/position with rookie Derrick Williams.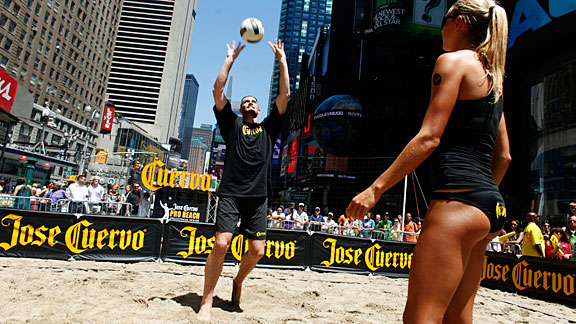 Kevin Love lost weight this summer; part of it thanks to beach volleyball!
PF
Kevin Love
Key Stat
first player to average at least 20 points and 15 rebounds in a season since Moses Malone in 82-83
Salary
$4.6MM - signed through this year, qualifying offer for 12-13
Kevin was a beast last year. He didn't rest in the off-season either. He worked out like that Jillian Michaels psycho was screaming in his ear all off-season. He's almost scary-in shape, but it hasn't stopped him from banging underneath like John Holmes in the first four games.
Uh....
C
Darko Milicic
Key Stat
2.0 blocks in 24 minutes per game
Salary
$4.8MM - signed through 13-14
Everyone hates Darko, but he has an ok-ish contract and provides something that no one else on the team can. Namely, post defense and shot blocking. Flattening Kendrick Perkins in the first game is the type of borderline crazy, Serbian war-lord we need to see inside. They only need him for about 20 minutes a game and he can blast out his 6 fouls in that time for all I care.
Reserves
Who
SF/PF
Derrick Williams
Key Stat:
56% from 3 at Arizona last year.
Salary
$4.6MM
-
team option in 13-14 and 14-15
When Derrick Williams was drafted, I was torn. There's no doubt he was one of the best available in the draft and he had a massive season at Arizona. I was concerned about the similarities between him and Beasley. They're both a little slow to be a 3 and a little undersized to play the 4. Derrick will need to be able to hit the NBA three with consistency. His key stat is that he did shoot 56% from 3 last year. Now he needs to be able to step back three feet and do the same in the NBA. He's having early struggles with the 3 early on this season, but I've seen him be very active on both offensive and defensive rebounding. Although undersized, he's very nifty around the rim; using solid footwork and a variety of finishes with both hands.
I no look-a when I make-a the pass. /rubiovoice
PG
Ricky Rubio
Key Stat:
FG 39.2%, 3PT 22.4% last year at Barcelona
Salary
$3.5MM - team option in 13-14 and 14-15
You can't say enough about Ricky Rubio right now. He's come flying out of the gates in amazing fashion with his slick ball-handling, high tempo, finishing and even some jumpers. The key stat for Rubio that everyone loves to point out is how poorly he shot for Barca last year. Being the uber-dork that I am I watched a few of those games and I came away thinking the jumper wasn't that bad. I don't think most people realize that was over 20 games where he went 20 for 51 from the field. He split time there with former Memphis Grizzly Juan Carlos Navarro. He hasn't been perfect, he makes some boneheaded mistakes out there that hopefully he'll learn from as he develops, but despite that he generally flat out makes everyone play harder and look better around him. I have a bet with Jeff in California that Rubio will shot at least 40% from the field this year. So far, so good!
WTF?
PG
J.J. Barea
Key Stat
9.5ppg last year with Mavericks
Salary
$4.3MM - signed through 14-15
Barea is one of the elder statesmen on the team at 27 years old. He's a bulldog that annoys opposing players with his in-your-underpants defense. He's slippery like Jonny Flynn wants to be when he drives the lane; and he's a very good 3 point shooter that can rain them in bunches. He's battling through a bit of a hamstring issue right now, but the times where he's been feeling good, he looks very nice out there.
This is the only time I've seen Anthony smile.
PF
Anthony Randolph
Key Stat
4th NBA in pouty looks last year.
Salary
$2.9MM - signed through this year, qualifying offer for 12-13
Mensa isn't calling Anthony any time soon. He has a lot of talent, but not a lot of brains. Adelman, to his credit, is finding the guy playing time right now in the hopes that he'll learn through experience. This is a big year for Anthony, who hopes to prove that he's worth of some kind of contract extension. He rebounds, he blocks shots, he's very aggressive, he commits silly fouls, he goaltends, he turns the ball over.
PF/C
Anthony Tolliver
Key Stat
40.9% from 3 last year, high socks
Salary
$2MM - signed through this season only
Tolliver is earning a lot of playing time right now. He's on of the guys on the bench that can come in and give you some scrap on defense and maybe knock down a 3 hear and there. He has the stiff white man's game in a black man's body. You have to love Anthony. By the way, he's also the team's player rep in the union.
SF
Martell Webster
Key Stat
Played 82 games in 09-10
Salary
$5.3MM - team option for 12-13
Martell is perpetually injured. He's got the back of a 350lb construction worker it seems. When healthy, he's useful. Another guy that can shoot and play a little D. I wouldn't be surprised to see him steal some Wes minutes if Wes remains in the dog-house if/when he's back.
PEK!
C
Nikola Pekovic
Key Stat
Salary
$4.3MM - signed through 12-13
Pek is a burly pick-and-rolling center that doesn't see any time right now. He has a nice prison tat on his shoulder with a dude and a bunch of skulls and usually is sporting a beard. If Darko were to go down he would ably step in as the resident thug/banger guy, without the shot blocking.
Amanda Altschuler FTW
SG
Wayne Ellington
Key Stat
9.3ppg in 8 starts last year
Salary
$1.1MM - signed through 12-13, qualifying offer in 14-15
Wayne seems to do stuff when he gets the chance. He got a start already this year with Wes struggling and he did very well. I'm impressed by how Ellington has worked on his game and as long as his contract is really cheap, he's useful on the bench.
Check out the big braids on Brad.
C
Brad Miller
Key Stat
All-Star in 03 and 04, sweet headband
Salary
$4.7MM - signed through 12-13
Brad
is in the twilight of his career and was a part of the Flynn trade. He's owed a chunk of change this year and next. He's still a good passer and has good size, so he might give a few minutes at center when he comes back in February.
You're going to have to put that hat all of the way on here in MN.
SG
Malcom Lee
Key Stat
13.1ppg at UCLA last year
Salary
3 year deal through 13/14, couldn't find salary
Lee was a second round pick this year from UCLA. At 6'5", he's supposed to be able to play and defend both the point and shooting guard positions. He's raw, and is a cheap stab at a defensive stopper type. Of course, early media reports are all about how wonderful he is, but we'll have to wait and see.