Seven Years to Kill
Jerry Kill signed a seven year deal with the Gophers after coaching up to this point with just a signed agreement. Jerry Kill is just 50 years old despite all of the issues with cancer and seizures and what-not, so it's conceivable he could be in Minnesota for quite some time. He was originally offered a 5 year deal, but he's convinced AD Joel Maturi and friends that he should be here longer. The most important message this sends is one of consistency. It's time to add some stability to a program that has had a revolving door of coordinators. To those hoping for a BIG TIME COACH or a return of Glen Mason, it's time to let it go. A big time coach won't come here and if he did he'd use it as a springboard to another job. I have to admit after the Brewster debacle, Mason looks better in retrospect. However, he was also a guy that was always hinting towards the next stop and it's not like he's constantly in the rumor mill to fill other vacancies.
The Gophers need to pin their hopes on Kill, consistency and running a program that has a proven system and recruits from within. The bulk of this team is made of freshman and sophomores. They're a sewage soaked dumpster fire right now, but the only place they can go is up. By the way, don't be surprised if we see more of the cream puff non-conference schedule a la Glen Mason in future years to get some cheap wins.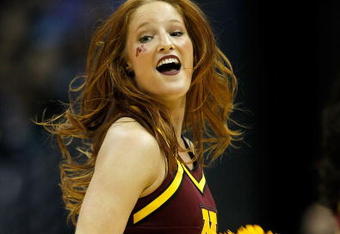 You know what Kill looks like; here's a cheerleader instead.
Sparty, Yes?
GO BREAK-DANCING SPARTY!
It's time to give some respect to filthy Sparty. An amazing win last week against the hated Badgers capped a three game run where they also beat rival Michigan and won on the road at Ohio State. This week they head to Nebraska. A win here really sets them up nicely as they have Minnesota, @Iowa, Indiana and @Northwestern to close out the year. You have our attention, Sparty, and it's not for abducting small children. We'll be following your effort against the corn-touchers this week. Don't blow it, you guys.
BCS Standings and Boise State
BCS STANDINGS - OCT. 23, 2011
Imagine if you will a world where we don't live in constant fear of a Boise State team that plays 2-3 tough games a year creeping up these standings and replacing a more worthy team in the national championship game. I don't have a problem with the BCS, per se. I have a problem with one game deciding the champion. I don't need a 64 team tournament or even a 16 team tournament. What I want is a 8 team tournament. Three weeks, 7 games, and boom: a champion. We can even still use the BCS to slot the 8 teams! What about the bowl games, you say? We name each game of the tournament after a bowl and rotate the big bowls for the championship game like we still do. This actually creates 3 more big bowls. (mo money, anyone?) As for the other small bowl games, we still play those and like today they have no bearing whatsoever on the champion. As it stands now you'd have the following:
LSU (1) vs. Kansas State (8)
Alabama (2) vs. Oregon (7)
Oklahoma State (3) vs. Stanford (6)
Boise State (4) vs. Clemson (5)
Other than Kansas State who has only beaten Baylor so far and plays Oklahoma, Oklahoma State, Texas A&M and Texas the next four weeks (see ya!); these are all very good teams and would make for an incredible tournament. Who's with me? What we need are some hippies to go camp out on NCAA headquarters in Indianapolis and get themselves blasted by some flash-bangs and stuff. Something like this:
Mountain Jesus
Mountain Jesus Blessing Skiers
Do you guys know Mountain Jesus? I didn't either until reading a story about him in this
AP Story
. Apparently some atheists with extra time on their hands are mad that Mountain Jesus occupies a 25 foots square plot of land that is owned by the forestry service and leased to Whitefish Resort. The statue was erected in the 50s by the Knights of Columbus. No word on whether they wore those funny plumed hats or not.
Some handsome dudes here.
So, crabby Annie Laurie Gaylor had this to say from the article:
"This has huge meaning for Americans. And if you aren't religious it has huge meaning as well," said Annie Laurie Gaylor, with the Madison, Wis.-based group. "If skiers think that it is cute, then put it up on private property. It is not cute to have a state religious association."
This is a totally legitimate argument I suppose, but I wonder what her point is since it's been there for SIXTY YEARS! If someone wants to build a church in the forest today, I'd say "Hey don't do that, bro". This just comes across making atheists look bad. Congressman Deny Rehberg completely ignores how goofy white Mountain Jesus looks and says the following:
"The Forest Service's denial of the lease defies common sense. Using a tiny section of public land for a war memorial with religious themes is not the same as establishing a state religion," Rehberg said in a statement. "That's true whether it's a cross or a Star of David on a headstone in the Arlington National Cemetery, an angel on the Montana Vietnam Memorial in Missoula or a statue of Jesus on Big Mountain."
I'm not a religious dude, but I say leave it be. Seems like most people like it or use it as a goof. There has to be something more important that these knobs can put their effort into.
Skiphesians 12:4 "I am the goggles and the helmet and the ski pole of life"