My #NoGophers silence is officially broken with this blog post. It was nice not thinking about them this week after they were trampled by the Bison. Rather than get into a long post about how awesome the Wolverines are I thought I'd come up with a list of things I'm looking for from this game:
Can the Gopher defense keep the Wolverines under 5 plays of 20+ yards? (probably not)
How will the quarterback distribution shake out? 50% Gray, 50% Shortell? (Gray out with a toe injury, I guess 100% Shortell is the answer)
Can the Gophers have a couple of sustained drives, thus keeping the Wolverines under 50 points? (probably not)
One good hit by someone (anyone) on Denard Robinson.
Speaking of which, if the defensive line isn't sacking anyone, does that mean they'll keep contain on Denard's runs? (probably not)
How many poor saps from Minnesota traveled to the Big House? Will we see them amongst the maize and blue?
With Troy Stoudamire out, how much munchkin Kyle Henderson will we get to see? You'll be able to recognize him as the guy biting on the Michigan wide receiver's ankles as they catch long passes.
Wolverine Cheerleaders with the little M decal on their cheeks.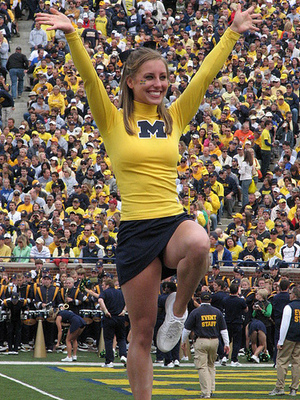 Zombie Bronko Rating:
This is a 4 ZB opponent. They're really good; a lot of that has to do with Denard running the show. Four Zombie Bronko Nagurskis would shred this team apart and infect half of the Big House before it was all said and done. Ann Arbor is a whore.
Zombie Big House