Life without Big Shede
I think TRE and I have been at this for over two weeks now. We're as surprised as you are.
We conclude our preview of the defensive with our take on this year's line. Getting good defensive linemen to Minnesota has always been a little tricky. While Minnesota annually produces a few Big-5 (/waves goodbye to BCS) quality offensive linemen, there seems to be substantially less quantity with their defensive brethren and those we do produce have a tendency to go away for school. Consequently, our defensive line play has been inconsistent since the time I learned to walk. Every few years, we get a player who exceeds our expectations and drives our defensive productivity toward the upper half of the B1G. Said player performs at such a high level, he makes what is an otherwise ordinary line perform at an above average level. A shining, glorious halo of excellence in which the others can bask, if you will.
The question we face going into this season is whether Ra'Shede Hageman was such a catalyst for the 2013 Gophers defensive line. Above, I used the qualifier about defensive line players who "exceeded our expectations" and whether that applies to Hageman is debatable. As a high school player, he had the measurables and offers that, unfortunately, often apply to players who choose to leave the state. Frankly, we probably benefited by there being some ambiguity as to whether he would play tight end or along the defensive line in college. At 6'6" and 250lbs as a high school senior, he had offers from Florida, Ohio State and Oklahoma, along with much of the Big Ten. He chose to stay in state, began his career as a tight end and transitioned to defensive end before finally landing at defensive tackle.
Whether he exceeded expectations depends on your reference point. As a player with freakish raw talent, recruited by many of the premier national programs, his 2013 statistics and 2nd-round NFL draft position probably met expectations. As, again, a raw talent who languished for his first few years in the program and flirted with failing out at the end of the Brewster regime, Shede lived up to what we all hoped he would be and was a remarkable surprise for many Gopher fans last year. His stats from this past season largely speak for themselves:
I mean, eight passes defended? C'mon. He was second on the team in PBUs (behind Eric Murray) and tied for 10th in the conference, the only non defensive back to finish in the top 15. His 13 tackles for loss were good for tenth in the conference. He was an utterly explosive player, a once in a generation talent at Minnesota. It's just icing on the cake that he was an AINP.
Within that context, I believe that he exceeded expectations. I genuinely thought he was finished following his suspension in the last few games of the Jeff Horton half season. It smelled of academics and it seemed unrealistic he would return under the new head coach. When he was still on the squad under Kill the following spring, I believed that any production from Hageman was a bonus and, with that as the baseline, he launched my flaccid expectations into the sun.
But now he's gone. And thus, we come to the question that defines the narrative. Was the Gopher defense an aberration last year due to Ra'Shede's dominance?
What follows for the next few paragraphs is what some might call a blatant rationalization. I'm not sure I believe anything of what I'm going to say, but it's a coping mechanism that has served me well through 30-some years of Gopher fandom. Work with me here, people.
It's my belief that Ra'Shede was a fantastic player, but was not a talisman on whom the Gophers' defensive success was solely based last year. His stats suggest a dominant presence who regularly inflicted pain on opposing teams. He was an animal. But I maintain that there was an inconsistency to his play in that he would disappear for long stretches of games: sometimes he would be on the bench; at other times, he would be in the game, but a non-factor. He was just a man.
To support this position, I bring to you an SGH-derived stat: The Metric Associated with Nothing, an Impotent Measure of Assets and Liabilities. The MANIMAL.
The MANIMAL measures the extent to which a given player operates as a regular man capable of well-defined feats of human achievement or as a ravenous, killing beast that slays and drinks the blood of helpless bipeds. It is largely based on memory which, now that we're nearing nine months since the last game, is admittedly fuzzy.
We're giving 'Shede a 7/10 on the MANIMAL scale. This indicates he was more animal than man, a fact with which poor Taylor Martinez would probably agree. But there's a healthy percentage of man there. That, to me, suggests that while he may have been the best, most athletic defensive lineman on the Gopher roster last year, he may not have been the most consistent. And with that consistency, the line may have found ways to be productive without Hageman. Which, since the Gophers now exist in a Hageman-free state, brings us to this year.
Let's begin with his old position:
There's a few moving parts here, so take it for what it's worth. Scott Ekpe appears to be Replacement Shede to start the season. He played in every game last season and was pretty productive for a backup, registering 19 tackles, including one for loss. At 6'4" 295lbs, he has ideal size for a B1G defensive tackle and, entering his third year in the program, should be reaching his prime at the college level.
Demaris Peppers appears to be his backup, but things are a little, uh, fluxy with respect to the 3rd - 5th defensive tackle positions. Peppers also has legitimate size at 6'3" and 287lbs, but coming off of his red-shirt year, it's tough to flex too strong with confidence that he's ready to meaningfully contribute. Much like the linebackers, it's depth that's the concern, with a dependence on younger players to add substantial value. Unlike the linebackers, though, the defensive line regularly rotate, so we can expect to see second- and potentially third-string players log meaningful game time. We're all hoping that fifth-year senior Harold Legania can step in and provide some depth to this unit. Legania, one of the few remaining players recruited by Tim Brewster, has been a model student and important contributor; but his live-action reps have been limited. He's a traditional nose tackle in a 4-3 defense, meaning he's big, strong and there to keep the opposing centers and guards from setting up big runs through the middle of the defense. Unfortunately for him, the current Gopher regime requires defensive tackles to seek gap penetration to disrupt offensive flow. That's certainly no knock on him; it's just not necessarily one of his strengths. With four solid years of practice and conditioning, though, this could be his year to shine.
At the other defensive tackle spot, we have one guaranteed starter (barring injury, of course) and another hodgepodge:
Mr. Reliable is Cameron Botticelli, who, as far as I recall, has started every game at defensive tackle since the year of my birth. Honestly, unless I forcibly recall the days of Jewhan Edwards and Brandon Kirksey (and who isn't longing for those days?), it's tough to think of a time when Botti wasn't regularly in the Gophers lineup. C-Bot seems like one of those guys who is a complete pain in the ass to play against. Super high energy, gives his all on every play. There was a dude on my high school team who went full blast on every single play in practice. Coaches loved him "[Player X] makes everyone on this team better!" they'd yell. Yeah, well everyone on the team hated [Player X]. Except on game days when that sort of motor works in your favor. Anyway, my gut feeling is Botti is that guy on this team, irritating the piss out of his teammates except for the days where he's being a relentless wad to opposing teams.
Backing him up, at the moment, is a true freshman. I've stood five feet from Steven Richardson and 5'11" might be a generous measure of his height. But dude is a quick twitch, leverage machine. As I remarked to Kyle Goblirsch, the keeper of all things Gopher 247 (which is a fantastic site if you're interested in a more nuanced discussion on Gopher football - highly recommended), I have no idea how I'd block the guy. He's agile, has a ridiculously low center of gravity and is calm like a bomb. He was lightly recruited on account of his height, but, coupled with his quickness, that's an asset. He's likely to see time at both defensive tackle positions, and will be a regular part of what should be a four-man rotation.
Yoshoub Timms is something of a wildcard. He looked good in the first two games last year, then was limited in his participation throughout the rest of the season. A non-participant in this year's spring practice due to injury, he figures to be in the rotation due to his size and athleticism; but the extent to which he will be a contributor is unclear. Now in his third year in the program, he should be entering his prime and providing some veteran stability to a fairly young position group.
To the defensive ends!
Of anyone on the defensive line, Thieren Cockran ostensibly benefited from Hageman's presence the most. With an aggressive defensive tackle forcing a double team, Cockran would have been left one-on-one against the offensive tackle, providing opportunities to disrupt the offensive team's flow. Certainly, his production last year was good. He grew into his 6'6" frame and retained the majority of his speed and agility, earning Second Team All B1G honors. He will earn the bulk of his scholarship money this year, though, now that Hageman is gone. His 2013 stats were not far removed from pre-season All American Shilique Calhoun. The question remains whether he can be productive in a line without Hageman's disruptive capabilities or become an ordinary defensive end. His production will be the linchpin on which the rest of the defensive line turns.
Backing him up is junior Alex Keith. At 6'3" and 245lbs, Keith is a little smaller than Cockran, but has been a productive defensive end, first as a pass-rushing specialist in his freshman year and a more all-purpose player last season. He has legitimate speed off the edge, but has had less than ideal size to hold the point against rushing-oriented B1G teams.
This is probably the deepest position along the line, with proven upper classmen in the two deeps. Appearing to back them up, at the moment, is true freshman Andrew Stelter. Like Keith, he is in the 6'4" range and about 245lbs, but he appears to be a little thicker than both Keith and Cockran. While he's looked good in the limited workouts I've seen, there's been speculation he's ultimately destined for defensive tackle. He certainly doesn't have the size to play there now, so may get some run this year at end in the event of injuries. Ideally, he can red shirt, spend a year in the strength and conditioning program and see whether he is better suited for the tackle or end positions.
The two deep at the other end position is probably as well defined, but the productivity has been lacking.
Michael Amaefula has started 30 games at defensive end. Did you know that? My mind leaked into my beer glass a little when I added it up. A starter by the end of his true freshman season, he has been in the starting lineup for every game the last two years. I mean, I've known he's there. I've seen him with the ones in practice, seen him on top of the depth chart on the Thursday evenings of game weeks, watched him appear regularly on the field. I was just surprised to see he had 30 starts. I guess I feel a little bad I don't have more to say about him. He's clearly fairly competent at his job, he's just never really stood out to me. That's a me problem, not a him problem, though.
Next in line is Hendrick Ekpe, a true sophomore who saw action in ten games last year. At 6'5" and 251lbs, he's one of the bigger defensive ends on the roster. I would expect his productivity to increase this season as he's now accustomed to the speed of the college game and has added some weight in the strength and conditioning program. He was the team's Outstanding Defensive Freshman of the Year last season.
At the first open fall practice last year, I found myself standing next to this tall dude wearing Gopher warm up gear. He was watching practice while casually chatting with a buddy and I figured he was just another Gopher knob like me. Turns out, that was Robert Ndondo-Lay. A walkon transfer from Winona State who sat out last season, it wouldn't shock me to see him get some playing time this season. He's pretty athletic and has apparently been getting run at both defensive tackle and defensive end.
One final wildcard is the news that freshman Gaelin Elmore, he who chose to come to the Gophers despite an offer from his home-state Badgers, has been moved from tight end to defensive end. Of anyone currently on the roster, he has the most potential to be the next Hageman. As an incoming high schooler, he is already 6'6" 260. Check. He is a converted tight end. Check. He had interest from many of the top national programs. Check. Having made the switch, he will almost certainly see some playing time this year at one of the end positions. His play this season will be fun to watch and, depending on the amount of reps he gets, the MANIMAL scale may very well be in play.
Frothy's Grade
Rubric: Jewhan Edwards - B+
Ain't no party like a Jew Jew Party, right?
You might never admit it to your partner or work friends, but there's a part of you that wants to be former Gopher defensive tackle Jewhan Edwards. Giant, strong, athletic and doesn't give an eff about anything. Who wouldn't want that? Jew Jew played three years for the Gophers and in 2010, during his junior year, led the Gophers in both tackles for loss and sacks, with 11 and three, respectively. (As an aside, how bleak were those years where the team leader in sacks had three? Good gravy.) Edwards was poised for great things going into his senior year.
Of course, Brewster had been fired midway through that 2010 campaign and when Kill was hired to replace him, he set up some new parameters around what was expected from his players. These didn't sit well with Jew Jew and, before too long, he had been booted from the team and infamously posted his displeasure with that decision on Facebook. Good times.
I'm not a fan of the way he scorched the earth and salted the land when leaving the program; but he was one of very few bright spots for Gopher fans during that ill-fated 2010 season.
Frothy's 2014 DL Grade - B
(Frothy's starting word count: 9,855; Finishing word count: 12,442)
TRE's Grade
Rubric: Lamanzer Williams - A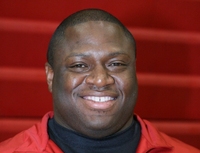 Lamanzer had 18.5 sacks in 1997 for the Gophers and went on to be drafted in the 6th round and had a short stay in the NFL, mainly with the Jaguars. That sack total puts him at a tie for the 19th highest season total in CFB since 1980
(FYI - Derrick Thomas holds the record with 27 sacks in 1988 for Alabama) In 1997, he received

All-American and All B1G first team honors. At 6'4' and about 270 lbs, he was a dervish on the outside for the Gophers.
He's also been a force on the coaching scene the last several years and now is the AD and Co-Head coach of Ypsilanti, which is where he went to high school. Here he is kicking ass in an interview about the upcoming season:
I'm excited about Thieran Cockran in 2014. I hope that he is able to build off of his great 2013 campaign and go Lamanzer on the league. As Frothy mentioned, an important part of that is replacing the production of Hageman on the interior. As those amazing stats suggest, when he wasn't bearing down on the quarterback, he was using his size to get up in the air and bat down passes. Quarterbacks obviously were aware of this tendency, and I'm certain some of the sacks were due to a passer being forced to delay or pull down a thrown due to the SHEDEWALL.
Going into 2013, I was never all that impressed with Cameron Botticelli, but my opinion of him changed tremendously over the course of last season. My initial impression is that he was undersized and often overwhelmed, but I think I was probably just an idiot. There is no doubt though that 2013 was his best year as a Gopher. He's a workhorse as Frothy mentioned, and is often all over the field making plays. He has 38 games as a Gopher, with 50 total tackles to date. I think we could see a 30 tackle season from him this year.
We'll also get a chance to see even more of Scott Ekpe at defensive tackle. I've like what I've seen from him, he has moments where he looks quite explosive. ***BREAKING*** your boy Harold Legania is apparently moving to help on the offensive line, so we are likely in for a load of Steven Richardson, Demaris Peppers and Yoshoub Timms Cup rotating in at DT.
It will be interesting to see if Amaefula can produce some big plays in his senior year as a Gopher as it feels like there are some playmakers in the waiting with Henrick, Ndondo-Lay and freshman Elmore in reserve. Speaking of which, I already feel like we need a nickname for Elmore. Does one exist? How about "Gael Force"?
TRE's 2014 DL Grade - B-
While there is a lot of inexperience in the depth chart, many of those players have some exciting skills that I'm looking forward to seeing. Losing a beast like Hageman leaves big shoes to fill though, so I have to stick with the B- grade for now, but I see a lot of room for growth in this group.