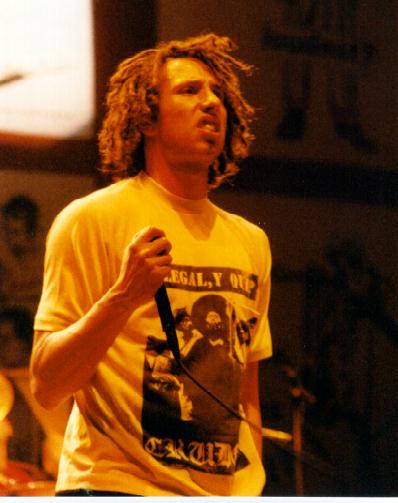 Zack knows.
Each week before the game I like to try and use the mysterious powers of the intergoogles to learn more about the given week's opponent. For week 1 of the 2014 season the Gophers are taking on FCS power Eastern Illinois. The FCS schools are a little tougher to research than say, Nebraska, but let's see what we can find out.
My first stop is to the official
EIU Panthers Website
and their preview against Minnesota. As a side note, congrats to EIU grads Janelle and Warren for winning the USTA Mixed Doubles Grass Court Championships:
Janelle clearly carried the team.
Where was I? Oh yeah, so the EIU site has 5 things to watch which amount to:
1. Kim Dameron is their head coach and its his first year. It's a dude named Kim; this is 2014, bro.
2. Who will replace Jimmy Garoppolo at QB? Answer, two guys that transferred from NMSU and Kentucky respectively. NMSU guy Andrew Manley actually beat the Gophers in 2011 and if I recall correctly, is a ginger. Suddenly I have the fear. Jalen Whitlow started some games for Kentucky and was a dual threat type.
Minnesota is preparing for two quarterbacks against Eastern Illinois -- maybe two at the same time, Kill says.
— ESPN Big Ten (@ESPN_BigTen) August 26, 2014
Wait, what?
3. There's a new punter and new kicker(s) this year. They're riding the "hot foot" at kicker. There's a 70% chance the opposing kicker wilts under the glare of SANTOSO.
4. They beat San Diego State in the opener last year and narrowly lost to Northern Illinois. However, they are 0-6 against the Big Ten.
5. Despite losing Jimmy at QB and WR Erik Lora, the recent Vikings undrafted free agent cut; they return 2900 receiving yards and two other FCS All-Americans. They also return both running backs who combined for 2500+ yards in 2013 including Walter Payton Award watch listed Shepard Little.
More on Garoppolo
Not Related
If you're living an NFL-free lifestyle, you may not know the name Jimmy Garoppolo. This spring he became something of a pre-NFL draft sensation; he was a late add to the Senior Bowl after playing well in the East-West Shrine game. The guy threw for over 5000 yards and 53 touchdowns as a senior, breaking records that Tony Romo set at EIU. He won the Walter Payton award which is like the FCS Heisman. The Patriots selected him in the 2nd round, 62nd overall and he'll be starting the Pats final preseason game on Thursday while his Panthers take on the Gophers. Word is he may play the whole damn game. Clearly, losing Jimmy will be a big blow to this team, but this still a strong offense that the Gophers defense should not take them lightly.
Any @EIU_Panthers fans that forgot how good @JimmyG_10 was, he is having a pretty good exhibition season 24-of-37, 334 yds, 4 TD, 0 INT
— EIUPanthers.com (@EIU_Panthers) August 24, 2014
Eastern Illinois All-Namers
WR Keiondre Gober - Fastest WR, deep threat!
DE Fedney Delphonse - OLB/DE SuperFedney
DB Elven Walker - Lives in a tree
WR Stephen Bravo-Brown - Hooray!
*Note: Not a single apostrophe on the squad
How will the game go?
Under the previous regime, Garoppolo and friends ran a high-tempo, high-octane offense. Dameron and new OC Greg Stevens intend to slow it down and use their very capable running backs tandem. Dameron is considered more of a defensive-minded coach and has a lot of returning starters. The defense has strength up the middle with DT DinoFanti and MLB Robert Haynes.
The bottom line is this is another one of those non-conference games where the Gophers need to just execute and rely on the fact they are the bigger, better, stronger, faster, better looking team. A strong start could be crucial. If the Gophers can get the running game going and the crowd behind them, it could be all downhill from there. If they make early mistakes and give up an early lead, it could be a painful slog. We at SGH? believe our defensive backfield is a strength and this will be a great early test. My dream would be a solid early lead with the opportunity to stretch the field for some passing to Jones, Maxx, Maye and Woli.
TRE's Score Prediction
: Gophers 30, Panthers 17
Swan's Score Prediction:
Gophers 35, Panthers 10