I feel so good about our defensive backs, we should save this for the end. But as Sun Tzu said, show your strength and flex doze nuts.
Defensive backs were always a position I admired. I'm a big guy, strong, like quadriplegic bear. Back in my subpar playing days, I could hit people pretty hard when I used my head as a weapon. But cornerbacks and safeties had a skill set far beyond my capabilities. Here were dudes that were fast, agile and, at least with respect to safeties, could lay the damned wood. Dude who played safety on my college team (another D-III All American – we were a good team) once hit a guy from another school so hard he had a streak of paint from dude's head on his helmet for the rest of the year. After that, when rolling with the scout team, I always kept an eye open for the safety blitz in the event he was out for freshman scalp. That I'm still here today is a testament to my ability to collapse in a boneless heap whenever I saw him charging at the offensive line.
The Gophers defensive backfield is, today, the best it's been in 15 years. The 1999 secondary featured two NFL draftees in Willie Middlebrooks and Tyrone Carter [Correction: there were three draftees from the 1999 class - I forgot Michael Lehan like a mope. Sorry Mike! (h/t to Hivemind member dpodoll68)]. We may not get to those levels this year, but if 2013 and depth are any indication, this year's team is a legitimate challenger.
Eric Murray is emblematic of this staff's ability to recruit defensive backs. He had, according to 247 and Rivals, exactly one offer coming out of high school (us /flex). Viewed primarily as a receiver at the time, he was rated as he 4th best recruit in the state of Wisconsin and the home state wasn't interested. Dude showed up at a Gopher camp as a WR, was played at corner for a bit to test his skills and, voila, we have one of the better corners in the league. Contributing primarily as a special teams player his freshman season, he emerged as a legitimate cover corner as a sophomore. Much depends on him this year, as he will likely get assigned to the oppositions' top receiver. If last year is any indication, he should be more than capable of holding his own.
Jalen Myrick is another example of what Jay Sawvel can do with raw talent in the defensive backfield. Boasting offers from Colorado State, Louisiana Lafayette and Middle-Tennessee (amaze, humid!), he ended up with Minnesota and, wut, is the fastest player on the team. Having seen him in practice, I'll say that his speed is legitimate and we should expect to see him quite a bit on special teams (he did tote the rock for that failed fake punt against Indiana), but also in spot situations at CB, particularly against spread teams.
Not to be forgotten is Marcus Jones who, at long last, is in his last year of Gopher eligibility. An ace in the special teams game, he has dropped off the radar to some extent since moving to corner from receiver last year. His kickoff return against UNLV in the season-opening game will forever endear him in the hearts of Gopher fans and this picture gives me feelings every time I see it.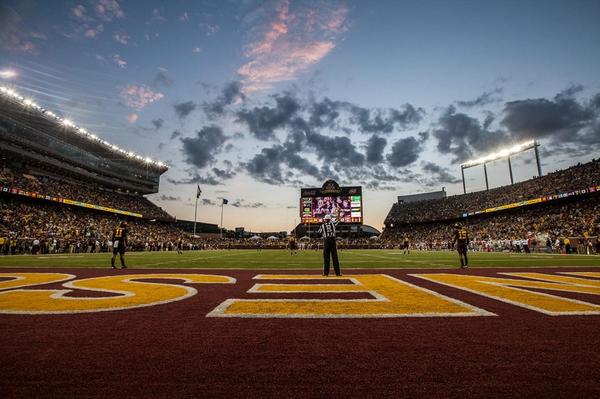 With regard to his abilities at corner, he's much improved. From what I've seen, he's done a good enough job at interrupting routes and breaking up passes that we should expect to see him regularly in dime packages. Last year, I cringed whenever I saw him in the game. I mean, at the B1G level, he's undersized and that concerns me. But he legitimately looked good amongst our legitimately good defensive backs, so I'm legitimately excited to see him. Ah, using the same word three times in a sentence is so damned blessed. To corner two!
You are Derrick Wells' prey. He has the Predator gene and you do not. Remember that and you'll live a full life. Forget that and, at best, you won't have time to bleed and, at worst, well, Depends ain't so damned dependable. Wells is a guy who could have departed for the NFL draft last year, but for injury Ebola. He's had some shoulder issues throughout his career that have affected his abilities to contribute. This is, quite literally, his contract year, so we should expect him to bring his best...which, honestly, is pretty damned good. A corner/safety hybrid, he's split time at both throughout his career, suggesting he may be this year's Brock Vereen. Vereen stepped in at CB when Boddy-Calhoun went down with an ACL injury and Wells has similar attributes. A large corner and small safety he's agile enough with his hips to be a decent corner back and just large enough to attack the run as a safety.
This is great news because it will allow Boddy-Calhoun to get on the field in clear passing situations or against spread teams. I fully expect BBC to be the 2014 nickel back, but last year he was this teams' best straight-up cover corner. As a JUCO transfer, we only got to see him in two games and he was out for the season with an ACL tear in the NMSU game. Given the myriad offenses we'll see this year, I would expect to see large doses of BBC. Against pass-heavy teams he may be bumped to a starting position as we move Wells over to his hybrid safety/CB position. (We need a name for that position. Derrick Thomas for the 90s-era Kansas City Chiefs played a hybrid linebacker/defensive line position called the 'Falcon.' I'm calling Wells' hybrid position 'Piston Dick' until someone comes up with something better.)
Safety
Cedric Thompson is indisputably one of the leaders of this team. I know this because dozens of articles were written following B1G media days about how he asked to be a captain and how he, along with Mitch Leidner, made the team better through the offseason. Since I'm usually too lazy to match my socks, I appreciate what Ced brings to the table. It turns out that he's also a pretty good football player. He led the Gophers in tackles last year, which is no small feat when you've got DAMIEN WILSON TACKLING MACHINE in front of you. Thompson has greatly benefitted from the Gophers' strength and conditioning program, building him into the type of safety that will give defensive coordinators the sort of dyspepsia usually reserved for Gopher fans. Strong, fast and smart, I'm sure the lack of pre-season attention from the media and award services will take a chip off of his shoulder useful in bludgeoning opposing players.
His backups are Grayson Levine and Daletavious (DALE-tay-vee-iss, I guess) McGhee. Levine has been a significant special teams contributor throughout his Gopher career and got quite a few snaps at safety last year. Also, his dad's name is Gino, which is pretty badass. A lifetime member of the All World Name Team Daletavious red shirted last year. Word on the street is that he is a goddamned whooping stick in practice, so it will be fun to watch him this year, mostly on special teams, I suspect.
The other safety position is shaping up to be one of the better camp competitions, even though it's not been widely covered. Damarius Travis has been getting first-team reps thus far and appears to have the inside track to starting in the opener. At 6'2" and 210lbs, he's a big kid and looks jacked. He's another guy that makes you appreciate the hell out of Sawvel. Offered by powerhouse programs like FIU and Western Michigan, Travis has blossomed into the paragon of a B1G safety. That's all strength, conditioning and a fantastic coaching and development program. Trust the coaches, y'all.
How can we be sure Travis is as good as all that? Well, the fact that he's displaced Antonio Johnson, the team's fourth leading tackler in 2013 is a decent indication. Johnson is a solid contributor throughout the regular season, but is a shining beacon of hope and truth in bowl games. He got his first start as a true freshman against Texas Tech in the Texas Muffler Bowl and casually flexed with six tackles and a PBU. He followed that up last year in the [REDACTED] with eight tackles, a forced fumble and half a sack. Dude has been a player. And he's not starting.
Rubric: Tyrone Carter – A+
Probably my favorite Gopher of all time, Carter was an undersized safety who was the leader of the 1999 Gophers defense that was likely the best in several generations. A two-time All American, he was awarded the Jim Thorpe award for the best defensive back in college football in 1999. Plus this:
I'm staking my entire reputation here and giving the current defensive backs an A. This is undoubtedly the strength of this team with talent and experience throughout the two deep. Of course, much is dependent on the rest of the defense, particularly the line, holding up their end of things. But this will be the best Gopher secondary in 15 years and, frankly, has the potential to exceed that great unit from 1999.
(Frothy word count: 1,538; total 100k challenge word count: 6,492)
[Note: Due to technical difficulties, TRE was forced to submit his grading via voice file. The following is a transcription of that file.]
Rubric: Brock Vereen – B+
Is this real? Is this real life.
I'm thinking my guy is going to be Brock Vereen. I know he just graduated last year, but he is what we want most off these defensive backs to be. He's smart, he's consistent, he's strong; he crushed it in the combine, in the weight room, I like him. It sounds like he's going to be starting for the Bears, so, that's amazing. It's fucking amazing.
I would give the overall Gopher secondary, as a general rule for this year, I'm going to give them a B+ as well, just considering the whole group, the depth and how awesome I think they're going to be. Briean mother-effing Boddy is back from an ACL and I thought he was going to be a stud last year. Watching him in practice, he was crushing mother effers. And, Wells had the shoulder injury, he's back. Eric Murray is good. Effing Ced is back. We're loaded at defensive back. Are you kidding me?