In 1943, Bronko received a letter from the Bears, asking him to come out of retirement, as they were short of players due to World War II. He agreed, on the condition that he be allowed to arrive after the harvest, and that he only play tackle, doubting he could be effective as a

running

back

. He had a strong season as a blocker and on defense, but trailing in the regular season finale, and needing to beat the arch rival Chicago Cardinals to advance to the league championship, Bronko returned to fullback and racked up 84 yards in one quarter, leading the team to victory. He scored one more touchdown in their championship game win over Washington, and then retired for good.
For this week's match-up I scoured the interwebs (googled) and found BoiledSports.com. Boiled Sports made me happy because the opening blog post I found has the word "AWFUL" in all caps. They then go on to list a number of ways in which the Boilers failed last week. THINGS ARE LOOKING UP FOR SATURDAY! /falsetto
So, Purdue is having their own problems. In addition, they have one of the worst mascots in college football. Purdue-Pete is basically just a dude with a giant plastic head and a toy hammer. He doesn't do anything cool. He just walks around and swings his incredibly light fake hammer in slow motion.
Your head's plastic. Clap Clap Clap-Clap-Clap
In their first four, the Boilermakers are 2-2 with wins over MTSU and Southeast Missouri State. They lost to Rice in week 2 and got mowed by the Fighting Irish last week. Purdue does actually have a pretty good running game. They're 19th in the nation at about 215 yards on the ground per game. They have two running backs that average over 5 yards per carry. Duane Bennett averages 3.7 ypc somehow even though he's tackled in the backfield on every carry. This match-up is so epic that the tv guide preview is all futility.
Corey Webster!
There is a compelling storyline though. If Shortell is in for the bulk of the game again, we could be looking at a battle of the gingers. Caleb Terbush vs. Max Shortell. Whoever wins absorbs the power of the other ginger a la The Highlander. Fun fact: SuperGinger Axl Rose is from Lafayette, Indiana.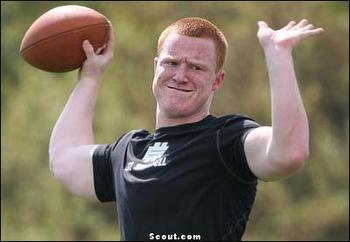 Max slightly more red tinted.
Zombie Bronko Rating:
This is a two Zombie Bronko Nagurski opponent. If Zombie Bronko Nagurski invaded Ross-Ade stadium I think he'd start by caving in the plastic head of Purdue Pete. His corpse teeth would tear through the plastic to the brainy center. If the Gophers are going to win a B1G game this year, Purdue is as likely a chance as they are bound to have. We'll see if Coach Kill can get the team prepared to execute a successful game plan. At the very least they should be able to hang around for a half.
Two Zombies is enough.