A funny thing happened when Jim Pohlad hired Chief Baseball Officer Derek Falvey and GM Thad Levine during last off-season. Pohlad ended any speculation by announcing that Paul Molitor would return to finish the third year of his contract as manager of the Twins.
It seemed unusual to me at the time because that's sorta, you know, what the GM and Chief Baseball Officer should be deciding. It might be safe to say that Falvey and Levine were on board with this though as it gave them a year to evaluate the staff. That didn't stop them from replacing a number of coaches, including bringing in hitting coach James Rowson. Rowson deserves some credit for a season where the Twins were 4th in the AL in runs scored.
In Molitor's first season, the Twins won 83 games and nearly made the wild-card. Last year, however, they poo'd the bed with a 59-103 campaign. With a new front office and a bad season the coaching staff tends to get the cigarette and blindfold treatment. Now Falvey and Levine might be in a more precarious position with the fan base if they do decide to go another direction as the Twins really bounced back nicely with 85 wins and a 7 hour wildcard loss. Heck, he has to be a strong candidate for manager of the year after the year over year turn-around.
Many of Molitor's problems can be chalked up to personnel. What's the old saying? You can't bring a Nik Turley to a starting pitcher fight? Building depth in the minor leagues and developing their talent has been an issue in past years. This season we got another step in the maturity of a solid core of controlled, young position players after many years of waiting on something...anything dammit. On the pitching side, they have Jose Berrios, who has lived up to expectations so far and Adalberto Mejia looks like he has the talent to be a rotation piece. A number of young cats in the bullpen showed signs of life, especially in the second half.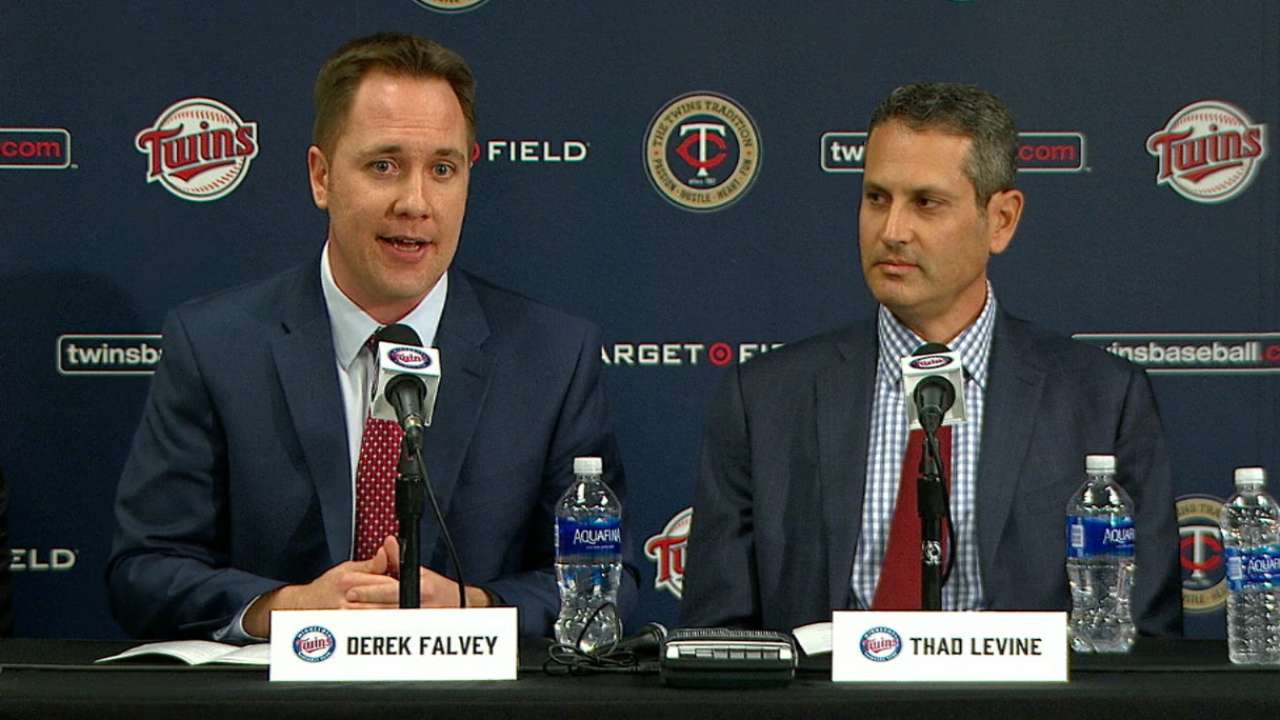 The decision will ultimately come down to how Falvey and Levine (Falvine?) worked with Molitor throughout the year and how well they think he's been handling the squad (duh). Molitor has openly stated he's not big on sabermetrics; having once said that people that put a lot into them have never played the game. This is a club that had a pretty well-documented disdain for advanced statistics under Terry Ryan and crew. Falvey and Levine are a super nerds that are all about those sweet, sweet numbers. They may want a manager more in tune with the matrix.
Another thing to consider for the front office is Molitor's relationship with the players. This is something that can't really seen from a fan's perspective. How is he with players in the office? He is pretty good about not throwing anyone to the wolves when dealing with the media. He may scare players with his bright red, paper thin skin, but that's not necessarily a reason to let him go.
My strong lean is that the Twins should let Molitor go. It may be petty, but some of his in game management really irks me. The bunts, dear-sweet-buttery-baby-Jesus, the bunts he calls for have almost certainly given me a tumor! Another thing I don't like is the way he give a starter the early hook only to beat the crap out of the bullpen by yanking them one after another; thus putting an entire series in jeopardy. It felt like this happened a lot. Would Buxton especially and maybe others have progressed at a greater rate with another coaching staff?
We will probably hear something within the next couple of days one way or another. Let's say they do replace Molitor, what candidates could we expect? Is it finally Joe Maddon bench-coach-buddy Dave Martinez? Bo Porter is name that's been circling again after working in the front office for the Braves. He had a cup of coffee as the Astros' manager.
You might look to Francona's bench coach in Cleveland since Falvey came from that organization, but its Brad Mills and he's like 100 years old. Steve Buechele is the bench coach for the Texas Rangers; where Thad Levine recently came from, but Buechele is a long time Texas guy and it may be tough to pull him from that organization.
Other names floating around the web are Chip Hale (former Twin alert!), recently fired Brad Ausmus (Ivy Leaguer!), Kevin Long and Alex Cora. Whoever it is, or if its Molitor, let's hope they can build on a positive 2017.