Here are
our completely uninformed thoughts on the defense.
DEFENSIVE LINE

Eight sacks. Why? Eight sacks
Driving Ge'Swan to drink lye
Tweak nips to ease pain
Ge'Swan:
Not a lot to say here. They were awful in 2010 in almost every facet of the game. I love them all like brothers, but they couldn't stop a nosebleed. Eight sacks is all one really needs to say. I have a Robitussin addiction thanks to these guys.
2011 stands to be better since, well, literally, it could not get any worse. Kevin Cosgrove and his bend, break, then break some more defense is out the door in favor of Tracy Claeys' AGGRESSIVE ATTACK ATTACK scheme. All the real blogs out there have covered what this means, so it's enough to say that it will hopefully be less reading the line and watching RBs and WRs run by you and more engagement and, you know, tackling.
From a personnel standpoint, the Gophers lose Jewhan Edwards. As we all know now, there was no party like a Jew Jew party, 'cuz a Jew Jew party don't stop and, I like to think, he was an aficionado of all things Swishas and dosha. He was the Gophers most productive lineman last year, with three sacks, and was a pleasure to watch on the field; but I suspect his rumored Sizzurpfests and #TWITTERWARZ with WLA may have doomed him in the eyes of the new staff. I, for one, will miss you Jew Jew.
As to the guys who are still actually on the team, Brandon Kirksey and Anthony Jacobs are the fatties manning the interior of the line. Both are strong and athletic for their size, so should be decent anchors. They are backed up by Eric Jaques, Harold Legania and Ra'Shede Hageman. 'Shede has the most upside here and is allegedly capable of world-class cleans and snatches (the powerlift, not the mommy parts, you guys). Unfortunately, he still plays too high and, with poor technique, strength as is useful in football as good penmanship.
At end, Ben Perry and D.L. Wilhite are your apparently starters. D.L. was my favorite Gopher on Twitter until he blocked me. I ain't even mad, though. They are supported by Kendall Gregory-McGee, Matt Garin and a couple of raw and super skinny freshmen.
Ge'Swan's Grade:
C. The Bukkake Arrangement will be in full effect here as well, with guys rotating in and out to stay fresh. I'm not convinced of the talent of the starters, so I'm not sure the BA will be as effective as it will be for the RBs. Maybe I'm wrong and the scheme will turn this ugly caterpillar into a swan.
Our Defensive Line Enjoying the Outdoors
TRE:
I'm starting to get a little worried about Swan's addiction to the Bukkake. Also, comparing the Gopher defensive line to a series of undersized Japanese men can't be a good thing. Finally, "not a lot to say here" managed to become 500 words. Neat-o.
Dennis Dodd over at had a nice blurb about D.L. Wilhite:
"Minnesota's sophomore defensive end knows he's probably not going pro. He also knows the value of a scholarship.
It is your duty to root for this kid. Wilhite is pursuing a double major and hopes to one day become a professor. During the offseason, he was accepted as a Ronald E. McNair Scholar, an initiative that honors the former Challenger space shuttle astronaut. Wilhite has an interest in Middle Eastern studies and hopes to study in Cairo in 2013.
D.L.'s dad doesn't allow dreadlocks, tats, earrings or baggy pants. Wilhite took his first plane flight when he came to Minnesota for a recruiting visit. The family didn't take vacations because they couldn't afford them.
'I can go out and blow my knee out the first day of camp and be done for the rest of my career," Wilhite told the Minneapolis Star Tribune, "But you can never take away the stuff I've learned.' " (Source:
Dodd's CBS Article
)
So, with kudos to Mr. Dodd, I'll definitely be rooting for D.L. Wilhite. I agree that Kirksey and Jacobs make a solid interior and I think Legania has a future as our new Jew-Jew. This group badly needs someone to step forward and put pressure on the quarterback. The more aggressive, blitzing style may help. With Beal now likely out with a knee injury, I doubt we'll see much of Tinsley lining up on the end like we saw in the fall scrimmage.
TRE's Grade:
D They need help or this really is a Japanese jerk-off fest.
LINEBACKERS
Gopher Linebackers
Please keep them under forty!
You're our only hope
TRE:
By all accounts, the Gopher line backing corps appears to be strength for this year's squad. Which is kind of like saying they're thinnest person at fat camp. Junior Keanon Cooper is an outside linebacker with speed and an active Twitter account. I have some concerns about his ability against the run as I've seen him get inhaled by opposing lineman in the past. Sophomore Brandon Beal is a big inside linebacker that transferred from
Florida
after two years marred by injury. (and it appears he's back at it again...get well, Brandon) He may have taken a number of blows to the head, which would be the only explanation for traveling so far north. He'll be in the mix inside along with Senior Gary Tinsley. In the spring game we saw a lot of Tinsley lining up at end and rushing the passer as well. If you looked closely you could see the outline of the 2x4 under his jersey.
Like a Greek God!
Junior Mike Rallis will start at the other outside linebacker opposite Cooper, when he's not injured, which seems to be often. The bonus of an injured Rallis of course is that we get to see his luxurious flowing locks of hair as he stands there on the sidelines. Spencer Reeves will see plenty of time as well. I was pretty high on Patrick Sveum as a backup OLB until google internet research proved that he was not the son of former MLBer Dale Sveum. This was crushing news for me. Junior Ryan Grant is also in the picture; Bud Grant, yadda, yadda.
So Much Stache!
TRE's Grade: Overall I give this group a B grade with upside. Beal has yet to prove it on the field, but looks impressive, Cooper is as fast as my beer slams and Tinsley is a wild man.
Ge'Swan: Tough to disagree with much of TRE's analysis here. My only complaint is that he graded them too low. Linebacker is, without doubt, the deepest position on the team. Tinsley, the only senior of the bunch, has an outside chance at All B1G this year, Coop is faster than God delivering a Jimmy John's and Rallis is a poor-man's Clay Matthews. Well, his hair is similar, anyway. That ish flows like the wings of a majestic bird.
The position depth is what warrants the higher grade, in my opinion. Reeves was highly touted out of high school and looks like he's about 45. I'm expecting big things from him, as Clayes rotates dudes in and out like a bukkake video. Similarly, Beal, Aaron Hill, Deee-wayne Mitchell and Sveum will see significant time. Brent Singleton is a bit of a wildcard. A RSFr, he picked the Gophers over some solid offers, but has mysteriously been left off the 105-man camp roster. I'd like to think it's because KILL was concerned he'd mangle fools if given two weeks to lay the wood to them; but I suspect it's something way less cool than that. Singleton aside, all of these guys are capable of solid contributions, enabling the starting LBs to play a more prominent role on passing downs in certain situations.
Ge'Swan's Grade:
A- for the position group, beeetches. If I knew how they ranked the position, I'd say they finish in the top four of the B1G
SECONDARY
Tiny Secondary
Buzz around like flies on poo
Don't stink up the joint
TRE:
The defensive backfield for the Gophers in 2010 was terrible. It was a revolving door of blown coverage. The good news for 2011 is there is no place to go but up. However, a lot of the usual suspects return and it is up to them and the new coaching staff to make an improvement. Starting at cornerback is Senior Troy Stoudamire and who? Hell, I don't know. Shane Vereen's brother could be there. Otherwise, it might be Junior Kyle Henderson.
Henderson
's Gophersports.com bio lists him at 5'11", which makes me about 7'5" I guess.
Henderson
is the kind of guy you cheer for if he's coming off of the bench or at dime corner. Then he's your Hosea Crittenden; the undersized, overachiever guy. There was a whole movie about this type of guy starring a hobbit.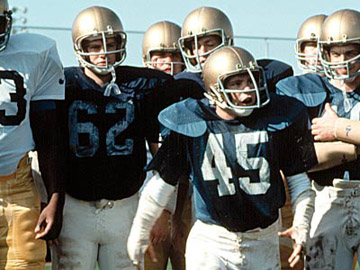 RUDY! RUDY! RUDY!
Sadly, on this team he might be your starting corner and covering someone like Marvin McNutt (yes, that's a real name and he's 6'4"). The safeties are a little jumbled too. Senior Kim Royston returns after suffering an injury in 2010; and boy do we need him. Kim could partner with Christyn Lewis to make up the all chick name backfield, but that is unlikely. It looks like it's either Shady Solomon or James Manuel will be opposite K-Roy. Manuel played quite a bit as a true freshman last year, with pretty dogshit results. He's big though, and athletic; so there's hope. Shady is a converted running back. So, you know if he's in there we're pretty desperate. Tyronn Bouie is a red shirt freshman that shows some skills. Plus, he's named after a big knife. Chase Haviland is in the safety carousel somewhere. Johnny Johnson is an even smaller corner than Kyle Henderson, but has been known to lay some big hits. There's a Tow-Arnett running around out there too.
TRE's Grade: I give this group a D thanks to the return of Kim mostly (otherwise it would be in the F-zone). Stoudamire has an opportunity to make a jump this year to being a solid corner, but I think he is what he is: inconsistent. Manuel needs to improve on 2010 and has the talent to do so.
Ge'Swan: 2010 was awful from a pass defense standpoint. Actually, awful doesn't go far enough. How about appalling? Holocaustic? Double, double-plus ungood? For once, I was happy there was no (erm, legal) booze available at TCF; it may have staved off the creeping, necrotic death of my liver for another year or two. Remember our 3rd down defense last year? Me too, and I start every morning with a Xanax and
shot of Jack to deal with it.
But TRE's got it wrong: you can't pin the debacle of 2010 entirely on the secondary. The Gophers had eight (8) (EIGHT) sacks last year. In twelve games. Eight.sacks. Worst in the nation. Eight. I'm no svengali of
offensive football, but I'm pretty sure there are long snappers out there who could break the 2010 secondary if they had 47 seconds to read the coverage and snap the ball to the open receiver. Solely blaming the secondary for last year's abomination is akin to blaming your dog for shitting the house. Sure, all the evidence points toward him being the proximate cause of the stank; but maybe, just maybe, your buddy Kevin Cosgrove dumping the Thai curry in his bowl last night had something to do with it.
With that said, I'm not terribly optimistic for this year's secondary. As a whole, CB/S group has more depth than any time I can remember, but it's largely unproven. We'll see more man coverage than last year, which should be in line with the available player's skill set. I think Stoudamire has more upside than TRE and Brocktarius will be competent on the other side. Three-years-and-out Mike Carter needs to make a move this year and Kyle Henderson should be immense, given the 78 he earned in NCAA12. Then there's Royston and a bunch of other dudes.
Ge'Swan's Grade: I'm grading this unit a C. I'll go so far as to say someone from this
unit makes one of the All B1G lists, even if I have to do one myself.